Not sure why I've never made this post, other than the fact that I feel beauty-illiterate, but I love reading other people's beauty tips, tricks, and products they love. I've been feeling experimental the past year and have racked up enough products to showcase a normal beauty/makeup routine.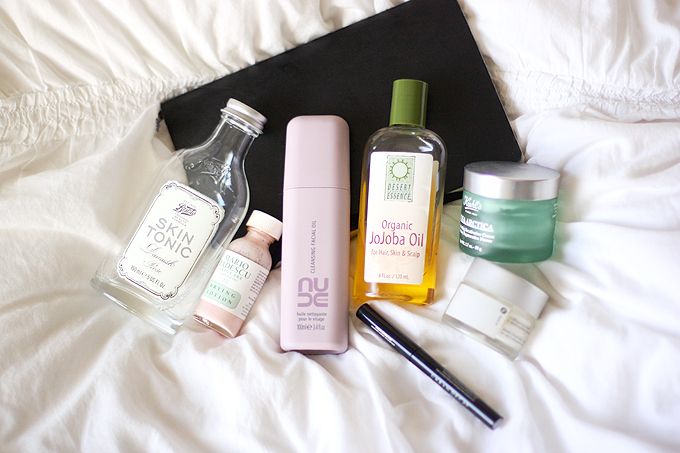 CLEANING
I was introduced to
Nude Cleansing Oil
when I was suckered into scheduling a free facial at Bloomingdales. But during my session, the woman started to explain to me the hazards of chemicals in makeup that are in every day products we use: sulfates, mineral oils, lead… totally gross. She basically scared me into buying the Nude cleansing, but I don't think I can turn back now. I did my share of research when I got home: these two links were the most helpful for me to
understand
and to
prevent
.
Every morning, I apply the Nude stuff on a dry face (kind of weird washing an oily face with more oil), brush my teeth, then wash off the cleanser in warm water. I usually prefer a one-hit-wonder though, something that can wash off my makeup in one hit and I found that
Bliss Triple Oxygen Foam
works really well. I love that it doesn't make my face feel stripped after. I usually use that one in the shower.
After I wash my face, I tone it with
Boots Rose Water
. Love this stuff, and it smells amazing. My mom eventually got her own bottle after stealing mine. And for trouble spotting (like, god-forbid, zits...), I use
Mario Badescu Drying Lotion
and leave it on all night while I sleep, and I usually wake up to a more welcoming situation.
MOISTURIZING
I grew up with really oily skin, but now that I'm older, I have weird combination skin that gets either really dry or really oily depending on the environment. I have a cousin in his early teens that had unfortunate skin at the tender age of 13. I saw him two years later and his skin looked baby soft again! Just how I remembered him when he was still playing with Power Rangers. His secret (more like my aunt's)?
Organic jojoba oil
, which is the closest oil to our skin's natural oil. The best method for me is to rub the oil into my face still wet then pat dry (the water helps soak in the moisture). Other worthy contenders:
Kiehls Rosa rtica
and
Korres Yogurt Cream
. I'd buy the Kiehls again, but I'm so skeptical of jar enclosed moisturizers because of bacteria (shudders), but I like the thickness and how it makes my skin glow. So if you guys have any recommendations that don't come in a jar, please, please, please
leave a comment below
!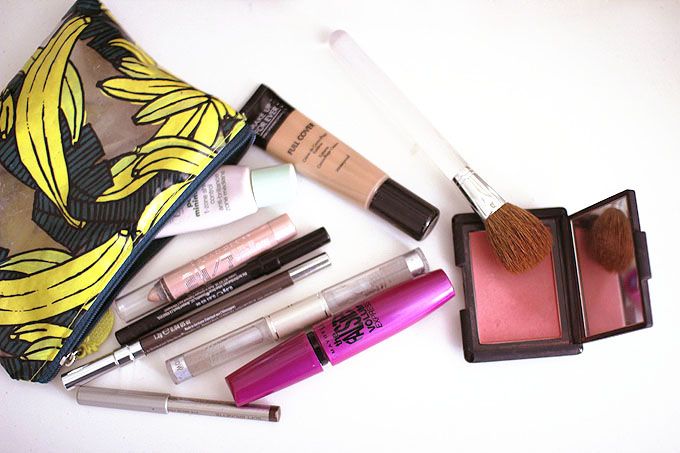 My makeup routine is pretty basic and hasn't changed much the past year. For coverage, I use
Make Up For Ever concealer
then set it with
Coty Airspun Powder
before I start my day - I keep
Chanel pressed powder
in my purse for touch-ups.
Urban Decay eyeliners
are my favorite. They go on so smooth and have a huge array of colors. Currently using brown eye-shadow (Stray Dog) and a shimmer in the corner of my eyes. Their
liquid eyeliner
is also really easy to use. I'm not picky when it comes to mascara, usually drug-store brands work for me. But I go fors pidery lashes, so my friend taught me a trick to leave open a new mascara tube for a few hours to dry out - perfect spidery lashes!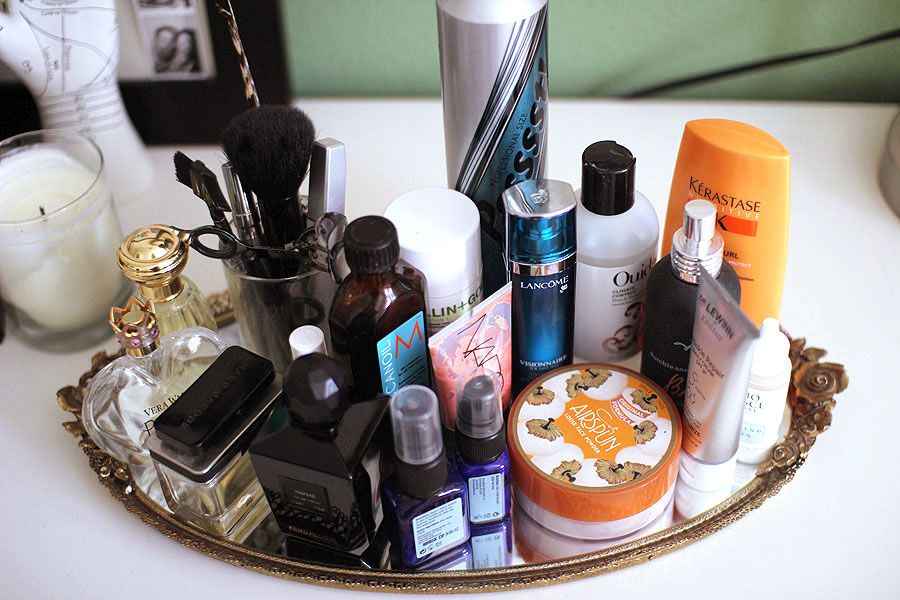 A few other products I use after the moisturizing and before makeup:
Naturopathica Vitamin K eye serum
is a god-sent. It has a natural YSL Touche Eclat effect! Highly recommend it – sucks that it's sold out though. SPF is one of those things I hated to wear because I can't stand the smell of it and it usually feels heavier on my face than a normal cream. I figured I should suck it up and invest in sun protection. My favorite right now is
Dr. Lewinn Wrinkle Repair daily cream
and I also use
Naturopathica lavender SPF
because it doesn't smell like sunblock.
Hair post coming shortly :) please feel free to recommend any products! I am always in the market for a new cleaner, moisturizer, and masks!