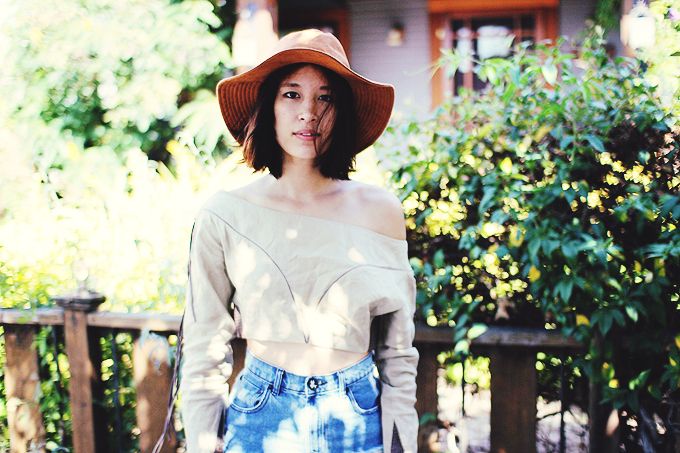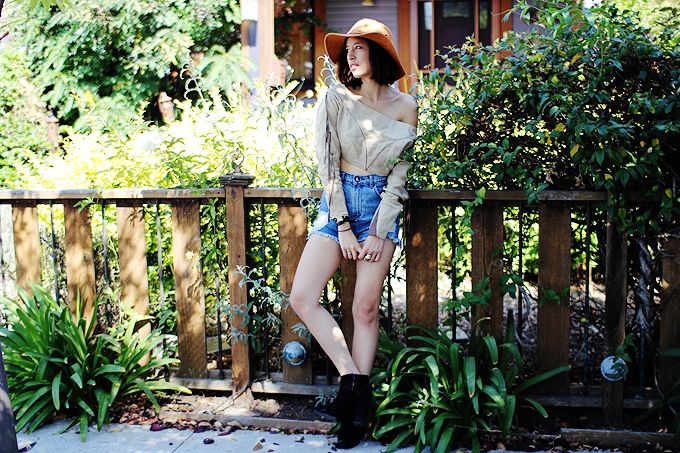 Vintage top. One Teaspoon shorts. ASOS boots. Urban Outfitters hat
Unplugging myself wasn't premeditated and actually sort of happened through a series of unfortunate events. If you follow me on
Twitter
, you might have read that I lost my grandfather midweek, last week then spent most of Labor Day weekend with my family for the memorial. I do miss him dearly, but I can't be sad because he is in a better place. Thank you to all who have sent your condolences.
Strange how you never notice the desire to ground yourself until you're forced to do so. Spending time away from a computer to laugh, cry, and eat with my family was the best way to immerse myself in real life – just in time to clear my head for New York tonight! Can't wait to congregate with my babes and buddies 4200 miles away from here.
Quick musings over this top: sifted through poorly made sequin tops and old Forever 21 donations at a thrift store and instantly was enamored by this quirky piece. I had it for a while but I was never sure how to wear it, weather and style permitting. The shirt doesn't breathe, so it gets too hot. It also doesn't cover enough, so it gets too cold. I ended up wearing it in Long Beach where the bipolar weather matched my bipolar top and was able to remain fairly comfortable. That is, until I tackled
this pile
which broke me into a soft sweat
P.S. All said, sorry if I haven't gotten to your Shop Chic requests. Everyone that has paid for their item, I shipped it out already! I will take the new orders when I get back from New York!