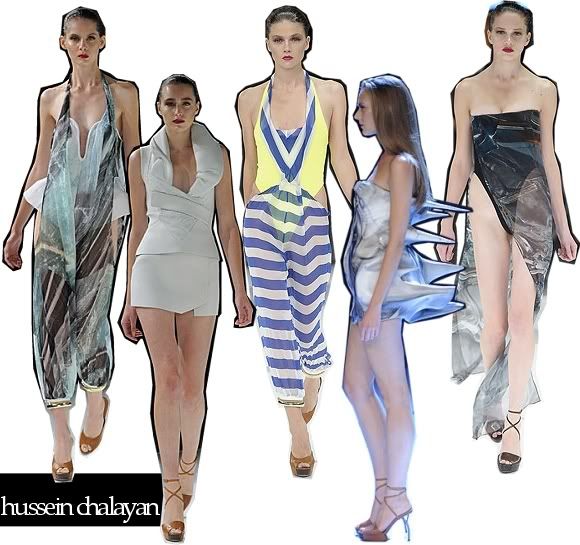 Hussein's collection is quite an innovation towards modern art. His pieces are highly conceptual, and you can tell, he pushes the boundaries and buttons to get to where he is now - in a way refining a standard of avant-garde. Though avant-garde, some of his pieces are extremely wearable and in essence, is extremely fresh with a great undertone of sensuality. 
Ah Ricardo Tisci has definitely gotten a little wild west on us: chaps, cowboy boots, and a touch of cowboy bondage. I was no fan of that at all (hence why I didn't waste space to include it), albeit, I admire his experimental focus. Tisci says himself that he enjoys designing a collection in which a girl can be a little more naughty - show more skin - after all, it's summer. And the fourth ensemble is direct proof of his theory. I would die for that top. Yet the collection to me is an evolution of his gothic ways, such as more neutral colors - definite plus. The collection remains rigorous and true to the label as he really understand the woman body, keeps a personal vision, but isn't too trendy. I'll always love my Tisci. 
As some of you may know, this could be Martin Margiela's last collection, so as a point to celebrate his anniversary, he took obvious elements from previous collections and launched this collection into a fierce retrospect. Par usual, his presentation was fantastic, though the collection itself wasn't a great hit for me - more of a weak effort than usual. Really, I would expect more from a closing show. I loved the ending dresses and the last two looks on the top row. I really can't imagine anyone else taking over MMM's label. Maybe one day soon, he'll show his face.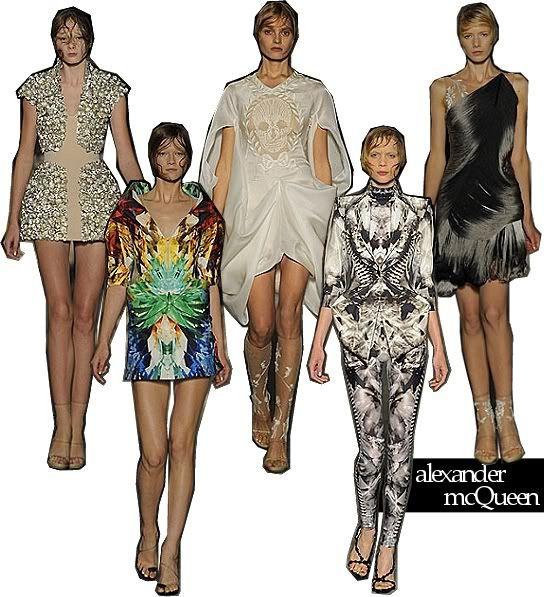 It took a while for this collection to grow on me, but after taking detailed mental notes of the fresh silhouettes, I was convinced. Of course the black and white vertebra print that played throughout the fabric was a definitely eye pleaser. The far right fringe dress is somewhat congruent to Jil Sander, no? Nothing bad about that, really. I absolutely loved the hourglass hips played down with a slim legs, and also loved the pieces that resembled a tattoo, like the shoes. And in all seriousness, McQueen came out of the show in a bunny suit. What a man's man. 
This to me, lacked the charming element I would expect to see from his ss07 collection. More over, I actually expected something more relevant and perhaps hard-edged for Lanvin. All in all, it is still a good collection, great even. The silhouettes were stellar, details were impeccable, colors flowed, and frankly the neutral looks blew my mind away! Look at the folding of that skirt! For me, it's all in the matter of execution, and I don't know if Alber was 110% focused, but his collection was extremely relevant to the signature of the label. It's really all that matters; I always look forward to his collections.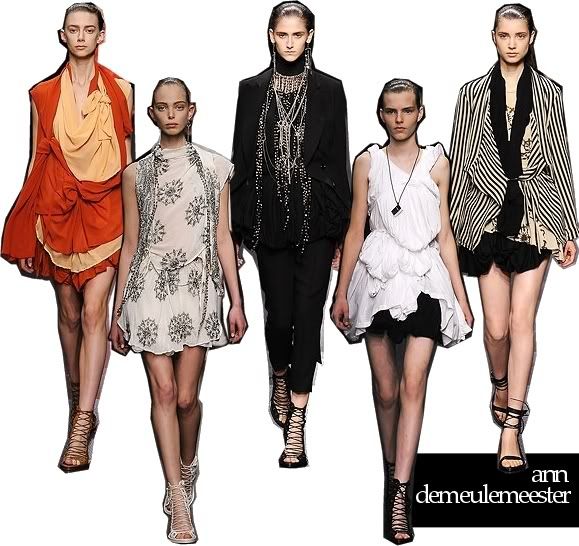 Hands down, this is my favorite collection of Paris fashion week. Ann charmed me with her overt gothic/grunge reference, but it got old quick. In fact, I never paid much attention to her collection to the point that I would highly anticipated her show enough for a reminder in my daily planner. Last season, she sparked my attention - enough for me to run about her archives and reminisce in her historical prosperity. More so, this visually arresting collection is an unexpected pleasantry of brights and pristine, fluid styling. She took a risk, and it worked. Guess who will be penciled in for next season Fashion Week reminders? 
Like the McQueen collection, I had to take a few extra looks sporadically throughout my day in order to properly appreciate and digest this collection - eventually, like most collections, it grew on my quite strong. I love Ghesquiere's play with lighting - seeing how the metallic material would reflect and absorb for a miraculous presentation. In fact, the ceiling flashed different colors on the model as she strutted down the runway. It makes me wonder how this will look without the special effects and into a store. Just like the shoes, it has Star Trek written all over it and, to me, looks like the shoes are concealed in the tights (which is actually a body suit). Again I wonder how their shoes will pan out in store as I usually look to Balenciaga for "shoe porn". Still, a stunning display on the runway, I just don't know how it will work in commercial.
I absolutely adore the honeycomb detail and the exaggerated Marie Antoinette styling. There's also a great mixture of textures that help succumb the collection into her constructions and aesthetics. This being wearable is truly in the eye of the wearer, but that aside, I find her work inspiring with so much structure and extremely expressive of who she is as a designer.
Disappointments:
Dior. Chloé. Haider Ackermann. Giambattisa.
Honorable mentions:
Chanel. Junya Wantanabe (really liked it - was too lazy to blog about it). Stella McCartney. Valentino. Mui Mui.
What were your favorites? Disappointments? Mediocre?