One of my favorite things about new season magazine gazing, are the fifty pages prior to the actual magazine. Yes, yes, the brand new ad campaigns.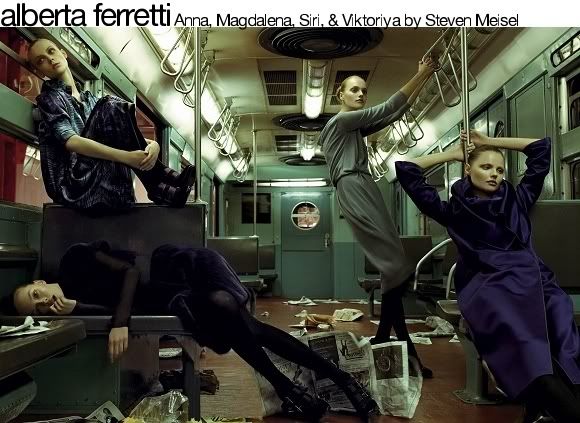 I always tend to look over Alberta's campaign because it's not an ad that I am excited to look out for, but being a fan of Meisel's photography I was mistaken. I find most of his campaign work to be most consistent with Alberta. Needless to say, when I saw this picture in a magazine, I literally stared at it for a good minute. I love the setting, concept, models (Oh, Siri) and the slight storyline you imagine -- it really leaves you thinking.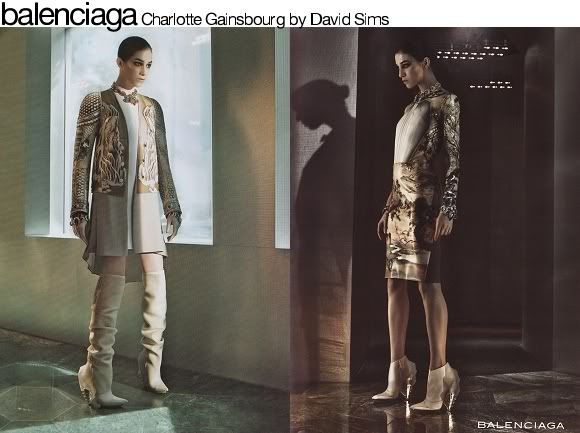 Like the collection, this campaign is very cut, cold, and sterile. Still, Sims manages to keep the sophistication to a very mechanical reason - suiting the clothes very well. With such majestic poses, I can now breath a sigh of relief since I've convinced myself this ad would turn out like Jennifer Connelly's spring ad; you know, actresses.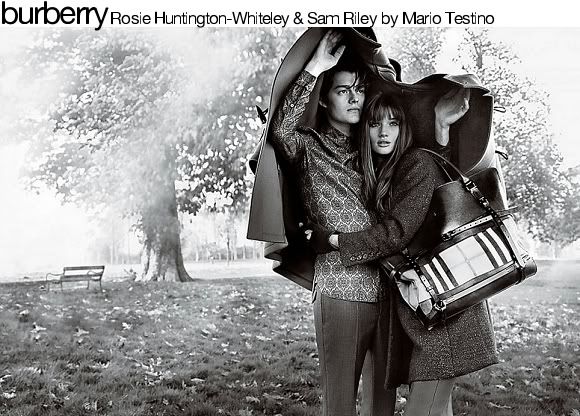 Ah, such a fresh, romantic take from the previous seasons with huge crowds. This is so nostalgic to their older ads with the crisp black and white photos. Personally, I would have never though of a Victoria's Secret model being in a Burberry ad, but it suits her quite well. And frankly, I am so glad to see Agyness gone!!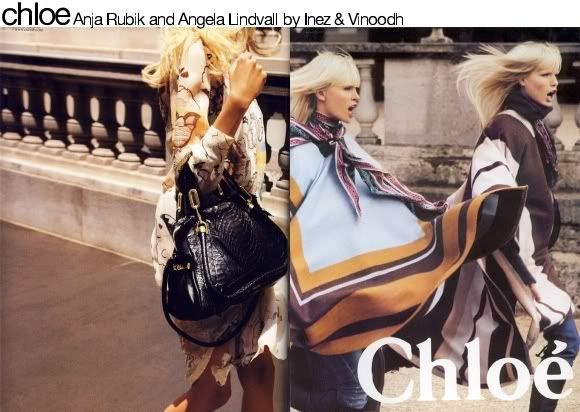 Oh, this ad is fantastic; it's very quintessential of Chloé -- almost as good as the Spring/Summer 07 ads, but it's much better than the previous two seasons, however not the best. I like it to say the least.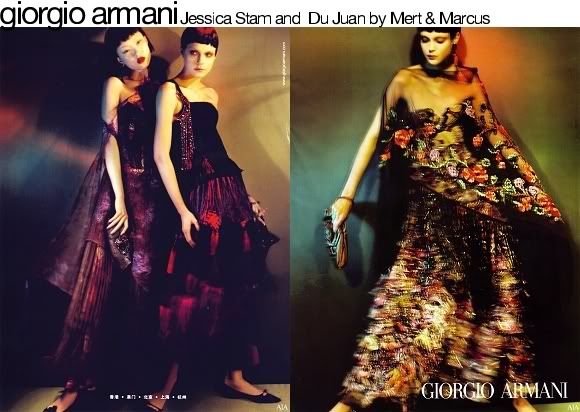 Du Juan should've have had this campaign all to herself because she absolutely outstanding Stam in every shot! If they wanted to use two girls, I would've have much rather seen two asians, such as Hye Park. I am just so glad that Agyness is the Giorgio Armani girl, I was getting extremely tired of seeing her on every other page.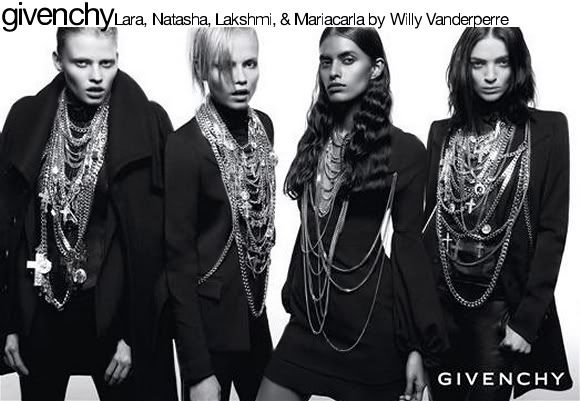 This is probably my favorite ad of the season; just look at the casting, it's absolutely perfect! I can't even favorite myself to one particular model because they all look great! Well, I take that back, Lakshmi is a chameleon! Then again, Mariacarla is exquisitely haunting. Natasha embodies the sexiest factor of androgyny. Lara is the epitome of Frankenstein's wife, and I wouldn't have it any other way.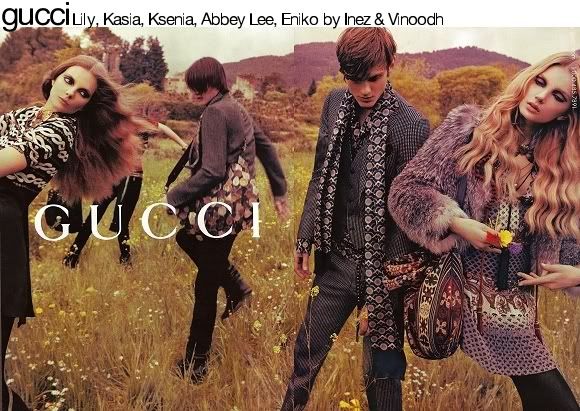 I'm not quite fond of the choice of models. I love Lily, I really do, but I just don't feel that she suits the Gucci girl, but this campaign was so far out of what I was expecting and the location is magnificent. I just wish that the girls switched places in being the main leading role; Lily is the focused on in each and every shot, with the highly potential models floating around as randoms in the back.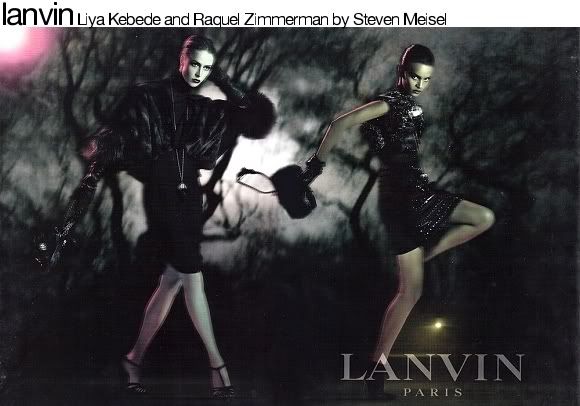 What a stunning campaign, albeit, I really could have done without Raquel. Liya really did steal the show, and once again, I must have preferred this campaign to be focused on just her. I love the darkness of the pictures, and now that I think about it, I think Raquel is just undershadowed by Liya's fierce poses. Love the darkness of this ad though; it's extremely relevant to the collection, which is hard to grasp into a picture. I still like Olga's breathtaking campaign more.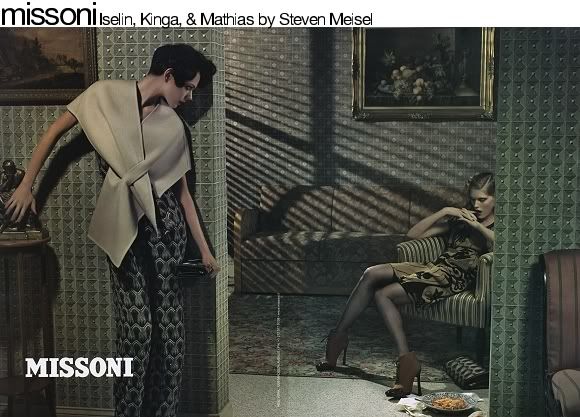 This is definitely one of my favorite ads. Like I said about the collection, I normally don't care for Missoni, but since she's now stepping out of her comfort zone consisting of brightly, saturated patterns. I happen to really, really like this ad. I love the Golden Era, suburban life concept that also leaves a message that perfection isn't always what we see - that every household has its dark and morbid secrets (as captured in this campaign). You almost could see some sort of tension in this ad, and I love it!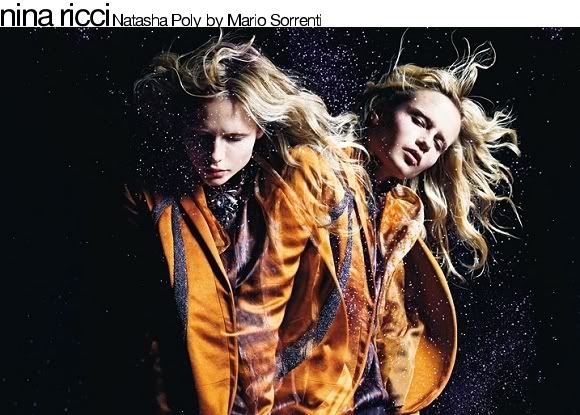 This is another ad that I would have never bothered to look into, but since I read that Natasha was the model, I had to check it out. All I have to say is, it's absolutely phenomenal; I seriously died and went to heaven. Then again, Natasha usually impresses me, even in a boring, cheesy backdrop. I'm still not partial on the collection, but this ad makes me like it!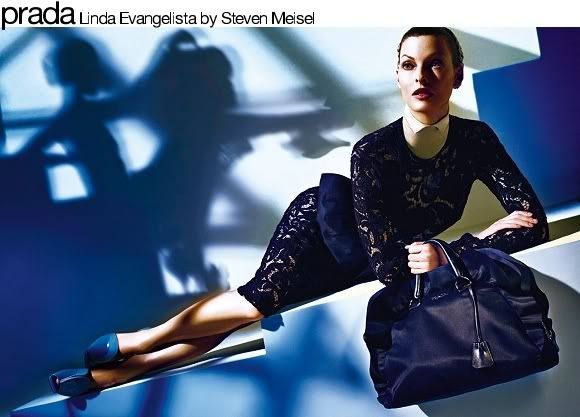 I understand that campaigns follow the mood of the corresponding collection. Prada, more mature; I get it. But I think I speak for plenty when I say that I miss Sasha. This is just far too mature for my liking, and even then I don't think Linda does a good job portraying that mature, classy lady; she just looks down-right snobby here. Using Sasha, would give the collection the advantage of contrasts that would appeal to a broader age group. The shadows in the back are far more interesting than Linda herself.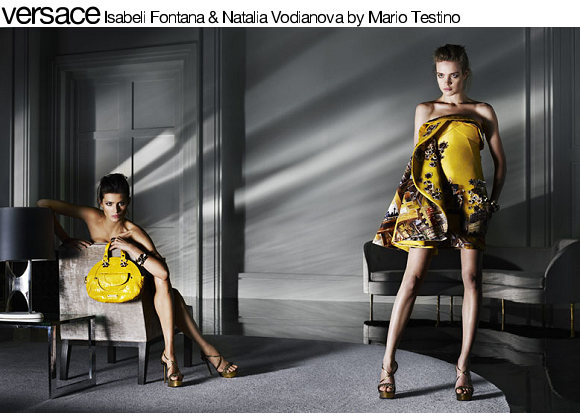 This is a pretty simple ad, but definitely not as bland as the previous seasons. I'm just loving the model choices, however the pictures itself aren't very artistic. I think Versace will do better with a new photographer and maybe some better styling. It's a fairly decent ad, and I do prefer it over a few others this season.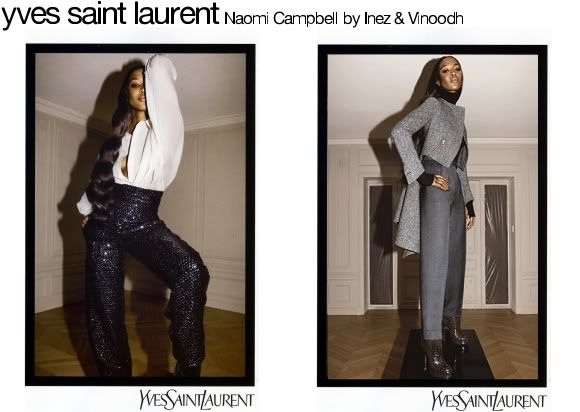 I'm not really feeling this ad: the overgreased legs and the long pirate hair. I actually loved Kate Moss's spring ad. The way Naomi works her magic, actually digresses the collection itself - a sharp, futuristic look. Here, she embodies the collection into a personal, intimate, yet arrogant vibe - can't say it fits my style. I really expected this to lead into an opulent ad that showcases the luxurious lifestyle of the YSL woman.  
Phew, what a long post and how devastating it is to know that I have work in less than eight hours, and I have yet to shower! I'll have you know that I'm judging most of these ads from pictures online; my opinion usually changes when I see the printed copy. 
Which was your favorite ad? Which disappointed you? What do you think is in store for next season?