I could not believe I was on Who What Wear Daily. Ted texted me that night - yes, Ted.

Ted: Hey, so you're on this website called... who.. what? where? daily??
Me: DID YOU JUST SAY WHOWHATWEARDAILY?
Ted: Yeah, Vivian saw you. Is that good?
Me: Uh, YES.

That's pretty much how I found out. I mean, they asked me a long, long time ago if they can use my picture, but I responded too late, so I figured they moved on. Anyways, thanks everybody for the sweet words and support!

As for my garage sale, being that it's the first garage sale ever (exaggerating) in the bubble of suburbia, it was a complete bust. We had our fun, don't get me wrong, but we only made like $7. To think someone would turn down designer jeans, oh well, re-consignment store they go.

I don't know about you, but I'm extremely excited for Fall. After seeing clothing on the runway, I love seeing how different stylists change once piece to fit different scenarios and moods. Here are a few fall necessities that seem to prove its absolute versatility for the upcoming season.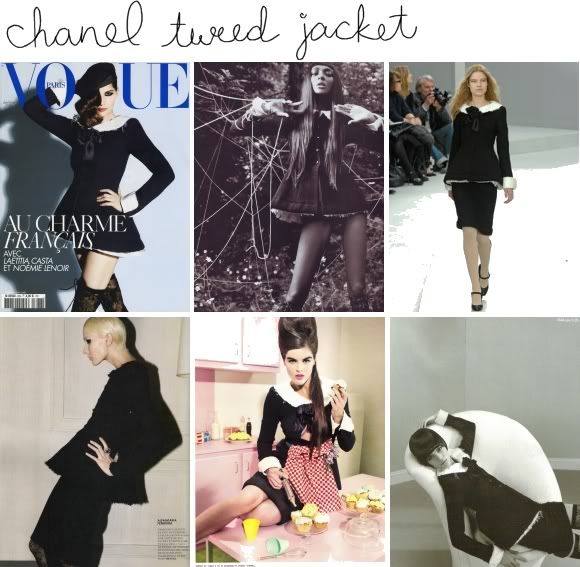 This upcoming season, I believe that every girl must own a great black jacket that pairs nicely with everything in her closet. Take this Chanel coat that looks like it can be worn as a dress or over a skirt; I bet this would look great under some raggedy light washed jeans. 
As if buying a neat hat to keep your head warm for winter isn't awesome enough, buying a feathered, pirates-esque hat is even better! Especially how changing the angles a little will change the entire look!
Black and white looks to be the dominate colors this season - again (seriously, how can you go wrong with it?!). Not only are we taking high slits to it highest potential by including it in all our outfits, it's a nice twist on the black skirt. Albeit only a dress, this still inspires other great Fall looks to come.
There's something captivating about the volume and proportion control of a big fur contraption to contrast against pencil legs. Now if only I can muster up the devotion to fashion to wear fur - nah.
Black is still the new black. Quite frankly, you can never go wrong with it. These pictures don't show much variation in the stylistic department, but I love the different moods this pictures up. I particularly like the first picture with the Rick Owens boots, ugh, to die for. 
After seeing these in editorials, I seriously need to invest in a ruffled blouse. It's hard to pick out the perfect one that suits your body without looking cheesy. I love Coco in this, although, you can't see it much. I forgot which magazine these are individually from, but I also like it in the third and fourth picture.
I prefer this LBD to Balenciaga's. It must be the way the silk that keeps this Grecian cut so enticing. Still, not much variation in the styling itself, but the portraits are each in its own.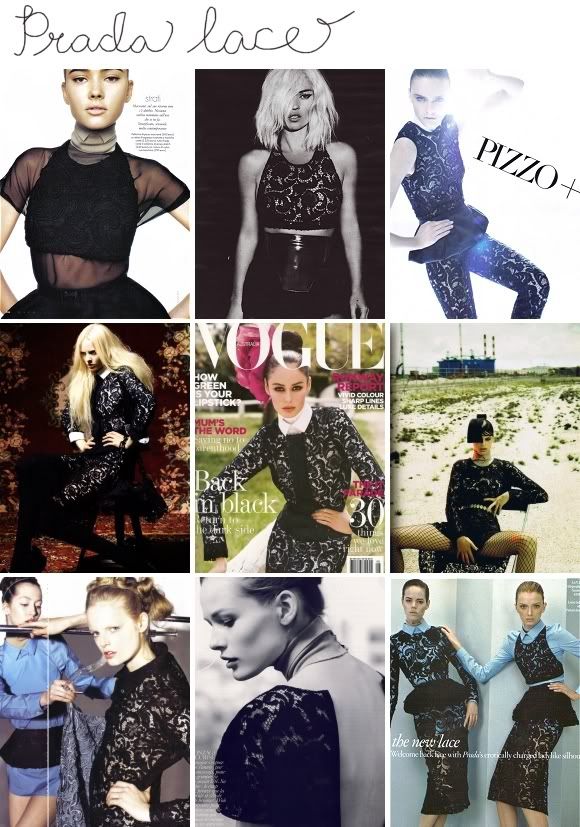 As if I didn't have enough pictures to use, the laced Prada pieces are all over editorials. And since lace is like the new leather, it'll be nice to pick up a magazine and take note of the mood these photographer and stylists are trying to capture within the photograph. Trust me, there are a ton more where this came from.
Yet another black and white dress that is used quote often in these editorials. The Yves Saint Laurent dress has this great architectural contour that will be quite popular soon.
I just can't wait to blog about the Fall season staples! It will be good! What are some things that you think are absolute must haves for Fall?
P.S. This weekend, Ted and I will meet up to do another vlog. Go ahead and ask some questions using the contact form to the right!
P.S.S. Thanks to MissMagAddict on The Fashion Spot to finding all these images and grouping it together!