It's been almost half a year since we found out that Rei Kawakubo is designing for H&M. Last year when Roberto Cavalli was the guest designer, I was lucky enough to be around an H&M that supplied the line. Though I wasn't a fan, it was nice to fight the racks for some exclusive items. I believe last year only 7-12 stores in the United States carried the line and this year, rumors are going around that only five US stores will be carrying the CDG line. Hopefully, the cross-your-fingers-and-toes type of hopefully, my local H&M will be a supplier.

Well, guess what else just leaked? The pictures of the collection!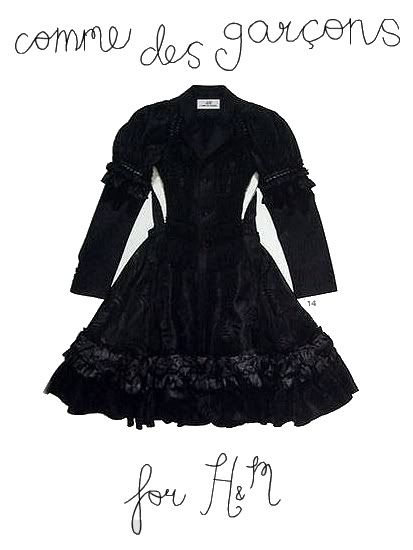 I see a lot of Gothic/Lolita Tokyo influence, namely in the first dress, which I ponder how it will actually look on. As for the collection itself, I see some pretty high potential items, others are alright. Apparently, the prices for these exclusive items will be even more expensive than past collaborations, so hopefully this will amount to
Rei's
standard of the carefully deconstructed.
I'll probably pick up a button-up shirt, that asymmetrical zipper jacket a la Mike & Chris, the blazer, and the awesome drop-crotch shorts. I'll be waiting outside the mall doors (Dark Knight status) and pick up whatever I can, and
Ebay
what ends up not fitting. There is no time for fitting room nonsense.
What do you guys think of the collection? Boring? Brilliant? Or just a plain disappointment?