When Haute Couture comes around, it starts to feel a little like the Super Bowl for me, excluding the excessive sexy commercials featuring Jessica Alba or Justin Timberlake. What I love most is seeing each collection over the seasons and years evolve and challenging the norm. Haute Couture is becoming less dramatic and more wearable and modern -- not sure if I like that. After all, isn't Haute Couture the highest form of fashion related art? If I wanted something wearable, I'd turn to the RTW collections. I much rather see an exuberant gown displayed in a museum than out in candids (unless you're wearing it to fashion shows to begin with -- I love seeing editors and stylists show off their way of a certain couture piece). It seems as though the outrageous couture designs are becoming a thing of the past and that said here are my top five collections: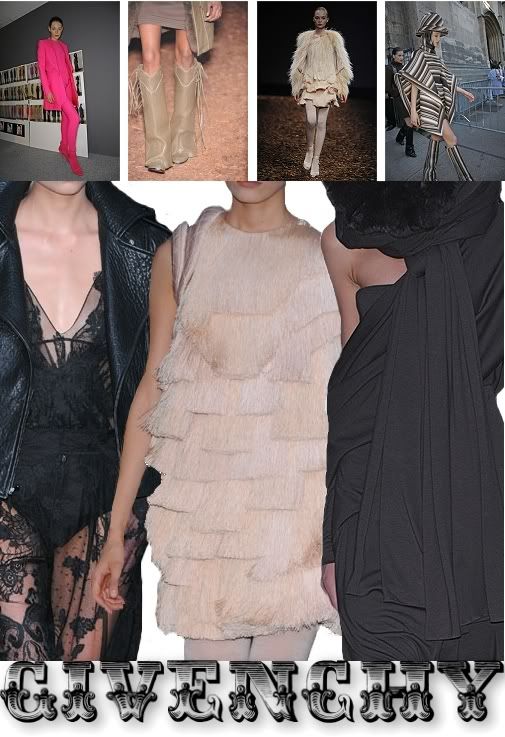 Being a Riccardo Tisci for Givenchy fan, I am utterly disappointed with the lack of coherency and just plain ugly pieces. The surge of tacky fluorescent colors did not do him justice, though I respect him for quirky, experimental choices. Not to mention the striped looks gave me headaches trying to figure out cuts and silhouettes. Needless to say, I wish he stuck to his signature look of punky elegance -- though subjective. Instead of branching too far out of his comfort-zone, he should have refined and varied his current work -- you know, since his past seasons have been absolute magic. But Haute Couture is not all about taste and styling, it is more the craftsmanship and attention to detail with each piece. For that, I applaud Tisci for his attention to detail, because I happen to really enjoy his lace and fringe outfits, albeit, seems more like ready-wear-to-me. Which brings me to a case in which Tisci could be changing standards for Haute Couture: easing dramatic appeal from looks to appeal a younger audience, showing that Haute Couture does not need to be dramaturgical nor theatrical to have respect, or even the 27 looks shown rather than the required 35. Either way, I'm still a huge Tisci fan and this collection did not change my outlook for him whatsoever.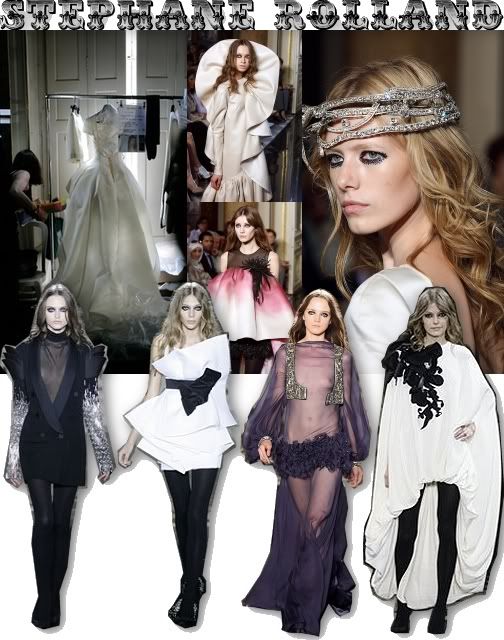 My god, I've never heard of this designer, but I was floored looking at his collection. It has this sweet, reminiscent appeal in regards to Jean Paul Gaultier mixed with Jil Sander all gone Early Medieval. I think the makeup and the hair have a lot to do with my infatuation with this collection; the bedroom hair and dirty, grungy makeup clash gorgeously with the sophistication and sharp silhouettes of the outfits. I can't wait to see more of him, and hopefully, see his work on a more sophisticated runway.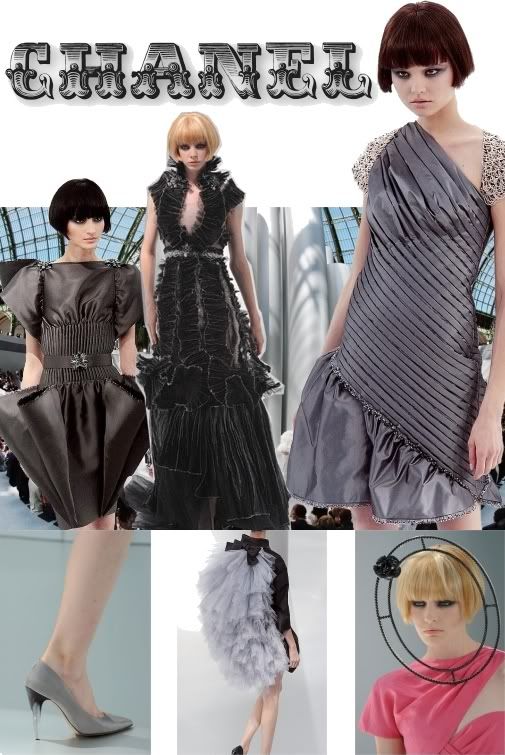 Karl Lagerfeld always has me in ups and downs; I'll like him one season and hate him the other. The previous collections have been nothing but let-downs for me (before FW08), but after this, it's nice to see Chanel go about a different way. It's not as predictable nor Chanel embossed cookie-cutter as his other collections -- which is great considerably -- but it still has the distinct taste. More over, the exquisite detail have me pampered with joy and despite many other's opinion, I love the bobs; it ages a fairly youthful collection. Out of the collections so far, I feel that Chanel held on to the HC concept best. If Chanel continues to head in the direction they are at right now, I can see myself penciling another collection to look forward to in the SS09 showing.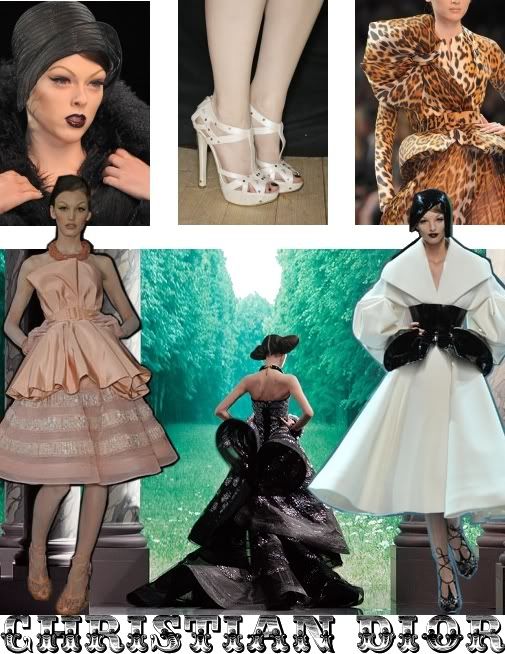 I've never been such a fan of Dior. Yes, I do find his aesthetic collections to be rather pleasing to watch and probably the most entertaining to me; I just don't see his designs to be anything practical, but who said fashion was practical? Namely, I've been a fan of his since his haute couture shows since his Winter 05. His use to music and theatrics to add to the clothing gives me chills, namely is SS06 collection which is probably my favorite. I'm glad to see him turn back to classic simplicity: clothing, makeup, runway. Everything seems to fresh and clean, and what I loved most was the ongoing progression towards simplicity rather than a sharp turn. His designs are gorgeous nonetheless, though predictable with the usual impressive construction, I just hope to see something really new -- something that changes the course of fashion once again.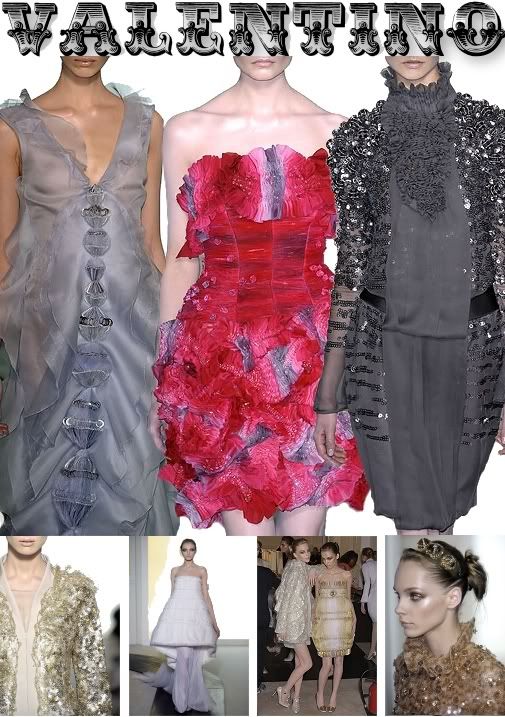 Last but not least, Alessandra for Valentino. I must say, I am thoroughly impressed with her first couture show for Valentino, but I wish it had more bang. Surely, it's a great collection -- stunning even! But it still seems ready-to-wear to me, though, if it was rtw, it would be a damn great one. The thing I love what Alessandra did for Valentino is she modernize it, yet she keeps to the archives. She must have been the most nervous person in Paris before the debut, needless to say, she delivered the different aesthetics but kept the classy spirit. Some pieces were a little too heavy, but we can easily overlook that as she sweetens the outfits with layers of chiffon. Let's just say, i can't wait until January. 
What's your favorite collection? How do you feel about the change in the Haute Couture culture?