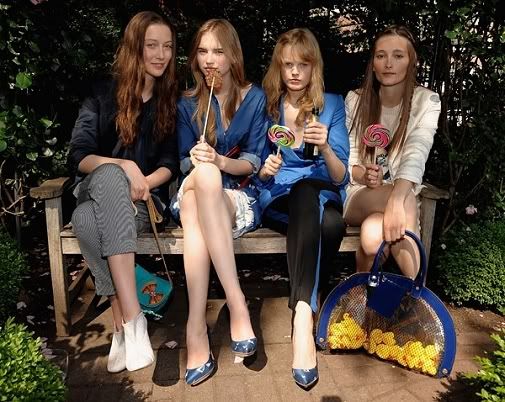 Though I don't find resort collections to be of any particular interest or inspiration, I do appreciate the fact it reflects on the everyday consumer rather than the intangible lifestyle of fashion elites. Designer labels like to dish out perfumes, affordable labels (Miu Miu, Marc by Marc Jacobs, See by Chloe, etc), or cheaper alternatives in general to keep audiences in the loop. In a way, it is welcoming a customer by say "Hey! Come here. Be a Givenchy girl, buy this perfume. Own me, embrace me, breathe me." and as a consumer, we feel as we can be a part of this extravagant lifestyle when in actuality, we're no where near this façade – unless you own some Fall Haute Couture 2002, straight-off-the-runway, gladiator boots, then that's an entirely different case.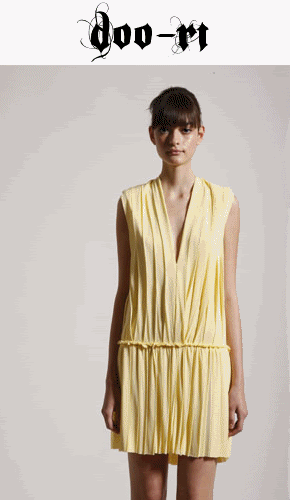 I love these new young Asian designers like Philip Lim and Alexander Wang because they have such a great, hip taste to their clothing. What I love about Doo-Ri Chung is her concise collection to functional separates. Her overall collection has this great urban flair to it, and each outfit can be broken down and mixed with other pieces from inexpensive shops – the ultimate mix of high and lows. So if, and when, you decide to splurge on that amazing white ruffle shirt, consider the options of vintage skirts or Forever 21 shorts, or a great pair of white denim (which I'm considering after this collection).

If you haven't found out by now, Jonathan Saunder is the upcoming designer for the Target GO International collection. But even before his little contract, he did a small collaboration with Topshop. Sure he isn't a household name, or a blogger name, but he has potential. He displayed his work for the first time in February during New York fashion week, and he also was appointed as the ready-to-wear director at Pollini. With so much going for this man, he is definitely someone to look out for. Though his designers are not incredibly new and arousing, he keeps it clean with shiny, structured cocktail dresses and glass print dresses – it's almost an eclectic combination of Missoni meets Marni.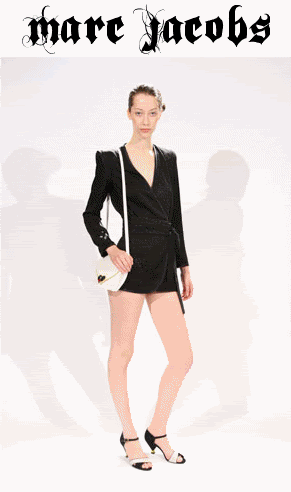 It has been said that Marc Jacobs captured the Yves Saint Laurent feel in this resort collection, yet I don't know if it was "inspired" or an intentional tribute – either way, there's a sort of morbid, eerie feel about the timing. Each individual outfit is either a hit or a miss. I do enjoy the saturated color palette, as it is very reminiscent of YSL. Essentially, it is YSL 80s with a touch of Stefano Pilati YSL, then cartoonized by Marc Jacobs. Personally, I like it, particularly the heart dress (Victoria Beckham was seen in it at the CDA awards) and colossal-statement bows (Lanvin influenced?). It actually stands out for a resort collection, but it's not like Marc Jacobs is blowing me out of the water. I can't help but to like it; it's like Marc Jacobs is every girl's guilty pleasure: we don't like to admit we enjoy his work, no matter how tragic it is. But it's what you would expect out of Marc Jacobs: a whimsical designer and a tongue-in-cheek man.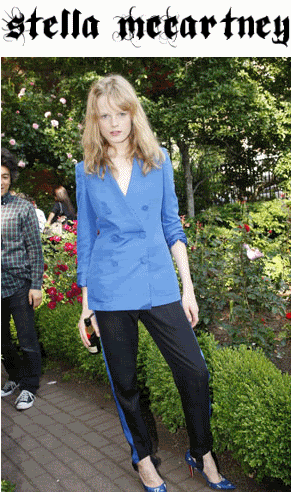 Ah, Stella McCartney has got to be my favorite resort collection; though, her presentation played a huge influence on my infatuation. This is so natural and nonchalant; it's almost precious because it is so kind on the eyes. I like the All American girl vice with Stella's signature jumpsuits and quirky tailoring. This collection really is the epitome of coolness as the setting displays girls who are genuinely meeting up at the park – effortlessly dressed – with tea and tongues full of gossip. And though we're still addicted to our rocker side of leather jackets and gladiator heels, McCartney reminds us that it's okay to be a girly-girl.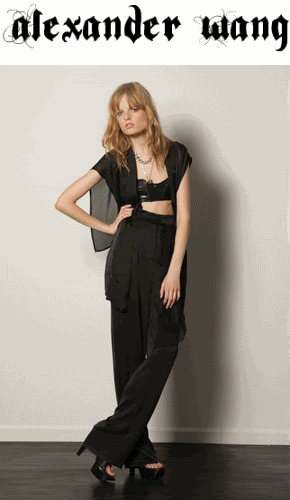 Yet another asian designer that deserves some recognition; can you believe he's only 23? Aside from this abundance of hipster chic that is the epitome of downtown LA girls, I am absolutely coveting the kimono-grecian hybrid and the loose over-exposing cardigan with the pleated black shorts. To help emphasize the downtown chic look, Alexander includes killer platform heels to rough up the feminine vibe. But seriously, those platform heels are to die for. This is definitely a great collection, regardless of its status as "just a resort".
Once again Burberry delivers a rather aesthetic collection, but still speaks the same tone -- can be a good or bad thing at times. In this case, I think it works. It must be the way acid green rubs my interest or the up-play of textures and pattern. Again Burberry displays the sock in heel combo, but maybe is incorporating this into their signature look. In a way, I am glad that Bailey is steering away from the attempts for strong designs and going for a more delicate feel. I never believed he primed in either ends of the spectrum, though, I give Bailey kudos for his styling. Until the new season, I wonder how he'll take his flare for somber hues and metallic accents into Spring wear: maybe more pebbly cotton?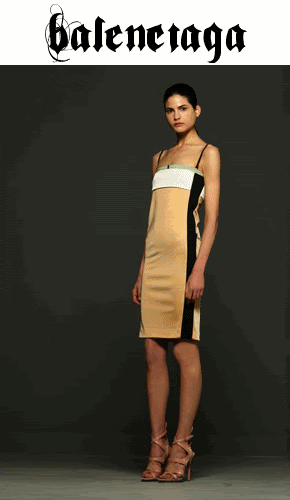 I seriously love Ghesquière because he can create a resort collection that is still worthy to start off a runway. Like most of his collections, the outcome appears severe, cut-dry, and sterile to the touch, but upon further examination, each individual piece is a statement within itself. The tough biker chic comes into play as Ghesquière mixes tougher elements with pale pastels for a color blocked visual. The exquisite tailoring that Nicolas is handy for is still panned throughout the collection and modernizes this sort of 50s feel. Lastly, those jeans, pants, whatever, are simply divine and I must have them!


With much ado about nothing, which resort collection was your favorite?