Hey guys! I'm sure you're all probably wondering where I have been. Some might have thought I died. Some might have thought I neglected my blog all together. Some might have thought that aliens abducted me. Some might have thought I was busy. Truth is, you're all right.

I know, I'm somewhat surprised myself that I'm actually blogging! I've thought about posting some wearing today's here and there, but came to the conclusion that it would desensitize the posts, leaving no excitement once you realize that my style is fairly consistent. Therefore losing the wow-factor every time I post and be an unnecessary abundance of filler posts. Not to mention, my recent outfits have been a bit drab. You know, the defaults: v-neck paired with anything denim. Yum, denim.

It's only fair (I suppose) to enlighten you on my life, but if you don't want to hear me ramble, feel free to skip ahead until you see colorful pictures. Well, April 26th was a friggen long time ago. I can't remember that far back, so maybe that will spare you some reading.

I went to Sea World with the boyfriend -- that was amazing.
I had the flu with Ted -- that wasn't a fun sight.
I became suicidal before my due dates for the Sociology paper (which I'm still nervous about the grade) and Art History Project -- it was depressing.

Okay, I'm over this whole personal update thing, just know that I'm not having as much fun as you think I am. Or maybe I am. Let's get on with this post! As Ted would say: this paper [blog post] is going 3 MPH.

Even though it's only May, I feel as though Summer is already here (except for the fact that there's an overcast this week). I seriously can't keep up with the seasons and often find myself wondering what time of the year it really is. You might have guessed through an obvious foreshadowing that I will continue the S/S staples. My reasoning? There are a lot of distinct physical pieces that embody Spring (part one), but how was I supposed to incorporate theme as well? That's where part two comes in my dears. I can tell you that S/S has a strong romantic vice (not exactly my forte, but I'm excited to switch it up a bit) that blends pretty and sexy well. To start off the list, something that held prominent on the runway: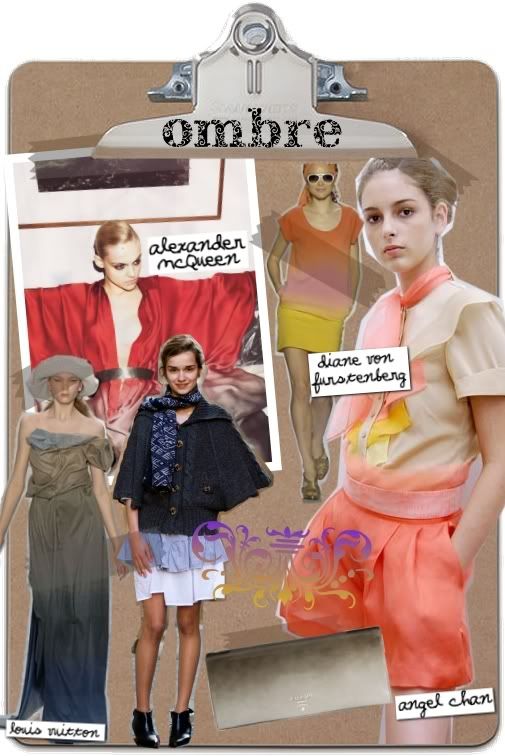 I love the play on color and when done properly, it can look fantastic! I must admit, it's a bit hard pulling this off without either looking tacky or straight out of Delias. But when done properly, it can look like a masterpiece. That ombre Alexander McQueen dress looks great on the runway, but breathtaking when translated through editorial! Another way to pull off the ombre look, and probably a more sophisticated take, is to use separate layers. I found this girl on
The Sartorialist
, and she instantly caught my eye. It's definitely another take on the ombre effect and definitely more innovative. I love the block coloring, but really, I would have never thought of it. Looks like I'll be raiding the closet soon for any hopes of imitation. 
Just thinking about Grecian and Roman art makes me want to fry my brains out (when you turn have to go through an entire textbook and compare the two, it's seriously the last thing you want to think of). The whole classical antiquity reminds me a lot of the Kate Moss for Topshop dress with the one shoulder, but this look is growing on me. It almost makes me wish I was still in highschool, so I can search for the perfect Grecian prom dress. After staring at numerous Greek/Roman monuments, I've grown a strong appeal for delicate, drapery. I particularly like how this blends in with Spring/Summer because of it light color and graceful appeal. Not to mention gladiator sandals have been, and still are, all the rage. All I know is that I strongly lust for a chiffon, toga-like dress to feel like a goddess. Namely Venus.
This is probably what I look forward to most when the weather heats up: extra legs. It's probably because I don't have a lot of it, but I showcase what I can. Showing off some leg sets up an opportunity to show off another trend: socks. Yes! I don't know about you, but I absolutely love how the middle girl paired her asymmetrical skirt with loose ankle boots and black socks. It's all so nonchalantly chic. And call me absurd, but that Resort robe-esque dress paired with those amazing Chloe's (which kind of look like socks in heels, right?) just drives me insane. I want it all so bad. Take it from Burberry: rock the socks with the heels of steel. I totally just rhymed. I'm feeling a little whimsical right now, ignore it.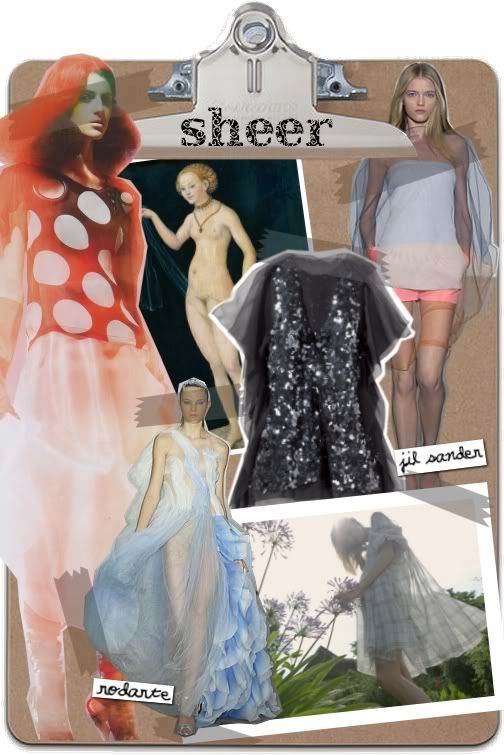 Ah once again, the soft, delicacy of play on fabric. Like the ombre effect, this is just as hard to pull off without looking tacky. I see this as an opportunity to layer clothing without bulk or packing heat. By the way, that is more art history in the example, see what this class does to me? I need to get out more. I do like this more than the ombre effect, as one can experiment more with different textures and play up or down this visual effect. I especially love how Jil Sander creates this almost an aura it seems, by a wisp of cloud that defies gravity. The lightness and freshness is extremely attractive to me, but how this will be translated to streetwear? I don't know yet.
I guess we have the Metropolitan Costume Institute to thank for this. It's not so much a 'trend' that is here to embrace, but it is certainly showing up in a lot of editorials. In essence, it is all about girl power. My favorite aspect of this heroine look are the masks -- so incredibly hipster chic. Though wearing, say, the Luella Cat Mask in public would just bring a ton of stares, it certainly would hold some respect at a nice house party. There are still more ways to go about this: capes, bodily armor a la Dolce and Gabbana, and probably the most wearable: boots -- long, fetishy boots. But seriously, Coca Rocha's editorial in May US Vogue is stunning and dream-like! Though, my previous love for Marvel might have influenced.
This might be one of my more favorite themes this season -- clashing patterns. I also imagine it would be hard pulling this off as well without looking a complete mess. The best way to pull of this busy look is to tone it down with a block color as in Comme des Garçon (I don't have her up). You might be wondering how this will look on a normal person, but I have that too! The girl on the far right was taken from street style, and personally, I think she looks best! But once again, it all depends on execution; it can either look all over the place and loud or incredibly chic. If you attempt this look, contrast either the colors
or
the patterns, but not both. 
Most of these trends can, and will be, interpreted on the far ends of the spectrum: either you have it or you don't. It all depends on the wearer's unique eye for style and artistic value, otherwise pulling these looks off can be quite challenging. Either way, I'm assuming we're all unique fashionistas with an eye for tasteful mix-and-matching. So, I'll trust that you'll sport these styles well. And if you do, and if you have a blog, I'd definitely like to see your interpretation! Till then, I'll be taking my Mother out on a very expensive lunch for the two of us. I hope you do the same.