After Spring cleaning (yes, I am an avid cleaner), I found my old American Girl paper dolls. Does anyone remember those?! Well, it inspired me to add a new feature to my blog as you will see in the course of this post. I did find it a little strange that I admire plenty of fashionistas, yet I never went out of my way to make a post about it. Finally, I will. I'll start blogging about admired socialites, bloggers, and muses, you know, the whole package. But to start off, here's someone who has been catching my eye as of late, you guessed it, Gwyneth.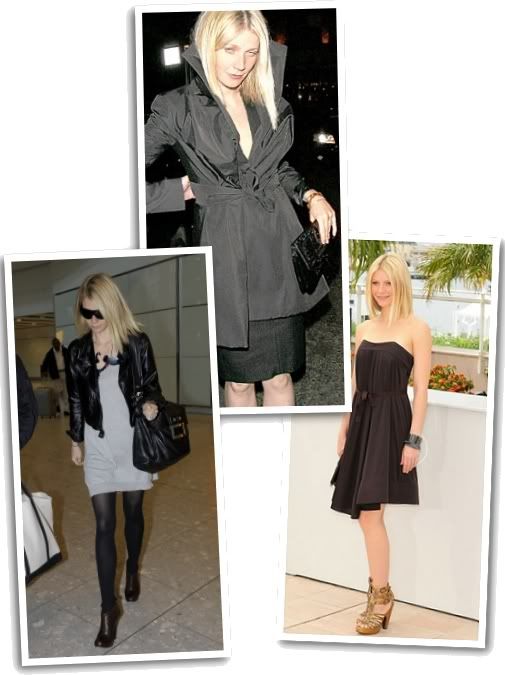 I somewhat feel like a band-wagoner when I say that Gwyneth Paltrow has been looking beyond
exquisite
lately! But you can't help
but
to notice! I seriously can't pin point if it's the haircut that boosted her edginess or if it's the help to her two stylists Maria Serra and Anna Bingemann, either way, it has made her a new woman. And usually, I'm not even a huge fan on movie actors or actresses fashion sense.
Lately, she has been sporting some fierce shoes: Givenchy to Guiseppe Zanotti, but that comes hand in hand since she favors the basics and lets the shoes do all the stating. I mean, not only is she drawing attention on the red carpet, her street style is just as chic. Gwyneth dresses up casual chic with an architectural coat, a play on neckline and a little black dress, and some drunken eyes. In other words: the Fall 08 uniform.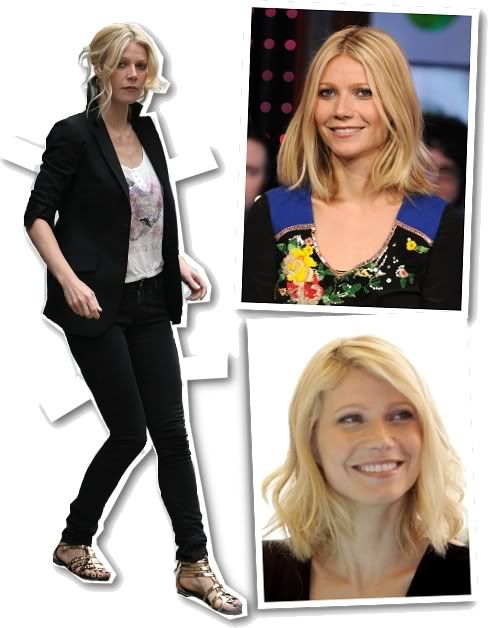 Even in close up pictures, the woman looks fantastic. Can you believe that she's already 35? I swear in the high quality pictures, her skin is flawless -- Gwyneth does not have a single pore on her face. As for her hair, it inspires me to get mine chopped off, solely because it looks great on her face. She also has the perfect shade of blonde and the right length that suits her so well. Yet I really don't know how the cut will pan out on me, but I imagine it to be like the second picture with my natural waves -- though sometimes too wavy. 
This is one of my favorite candids of Gwyneth, because I love her use of mixing basics. So to break it down, here's how you can achieve this look by mixing up simple basics into a fashion-forward outfit: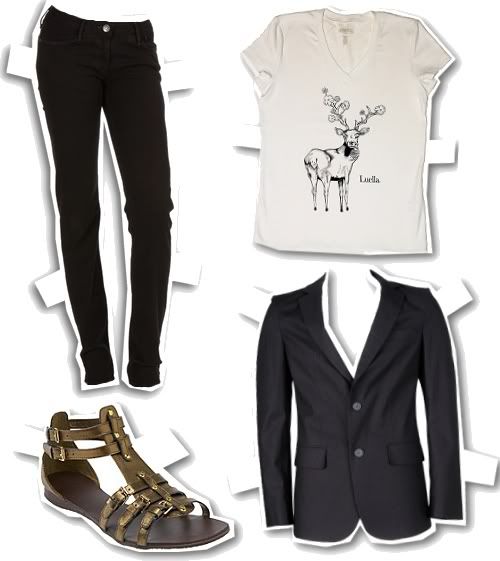 Jeans:
Earnest Sewn
- Every girl needs a pair of black skinny jeans in her closet. It's like the classic look for that lean, dark winter look that compliments everything. In essence, it is a blank canvas; whatever else you throw on it will balance out; be it a huge fur coat or a tight hoodie. The universal black and skinny leg will even out the playing field. 
Shirt:
Luella
- Okay, so the simple v-neck with some sort of fancy-dancy, simple logo on is tres chic. I am particular about the fabric of my shirt: not too thick, not too thin, but soft and sheer enough. I also favor v-neck to crew neck, especially on guys. It's my Achilles ankle. Not only is this Luella tee chic and affordable, but every purchase is another step towards helping out our communities; each logo represents a different cause. By purchasing this stag t-shirt, you are helping bring sports, work habits, and education to the kids in Africa. Wait for it, AND it comes in black for men in men sizes. I'm probably going to convince James to buy himself a shirt so we can match. Embarrassing? A little. Cute? Sure thing!
Sandals:
N.Y.L.A.
- A few years ago, we've eyed gladiator sandals with tension: we liked it, but would the trend last out long enough so we didn't look silly in them? The fashion explorers went ahead and invested in them anyway, and it paid off. Now, gladiator sandals are almost a staple for spring/summer. And well, they're going through a huge spike in every department store. Whoever said that fashionistas can't indulge in trend lusting every once in a while is painfully mistaken. 
Shirt:
Forever 21
- Last but not least, the one thing I talk about ever so often on this blog: the basic black blazer. Something so simple can induce such a wide variety of ways to wear it. I personally love the way it sharpens a grungy look, but here, Gwyneth is up-town chic all the way. I love the way she can pull this off without it looking too business casual. Trick is to roll up the sleeves for a less polished look. 
Gwyneth just goes to show that sprucing up your closet can gather a ton of attention, probably more than she originally bargained for.