It only took weeks to clean my closet, but it is finally organized to my standards. I'm the type that goes big or goes home when it comes to cleaning; the affirmation of change is certainly exhilarating. I have a post in my archives somewhere of my closet cleaning, but this time, I decided to give mine a little makeover. The post of my old layout: click here.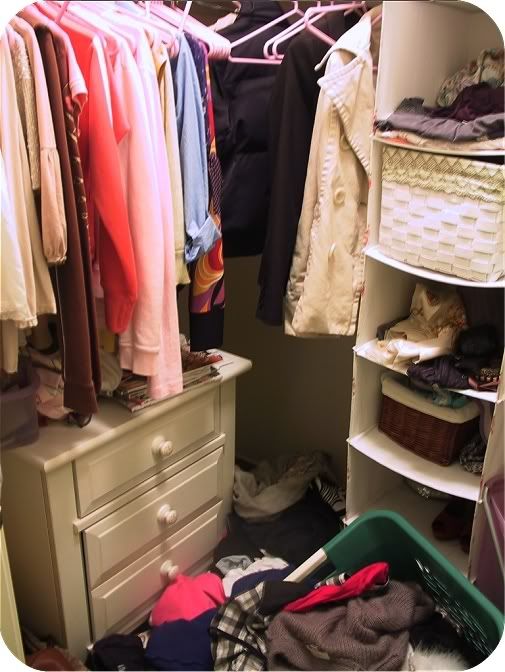 I am probably one of the laziest person you'll ever come across. My closet stays clean for a week before it starts going downhill; we like to call it 'Hurricane Raych'. For a while, I used a six slot closet organizer for miscellaneous articles, but the clothes started to weigh down the equipment. I decided it was time for another solution.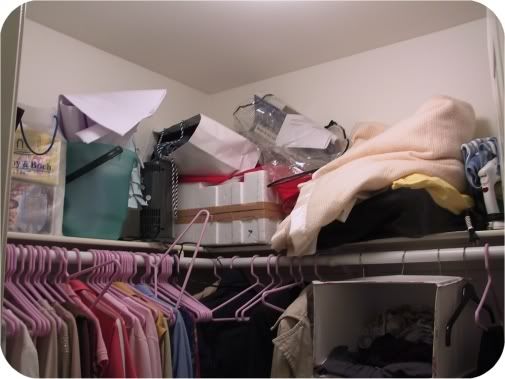 For a closet that had all the potential in the world to look fabulous, the shelving was a mess. I figured I needed a place to store my shoes (rather than under my table, garage, or car) so cleaning up the top would be the best solution. Not to mention, a great way to display my shoes.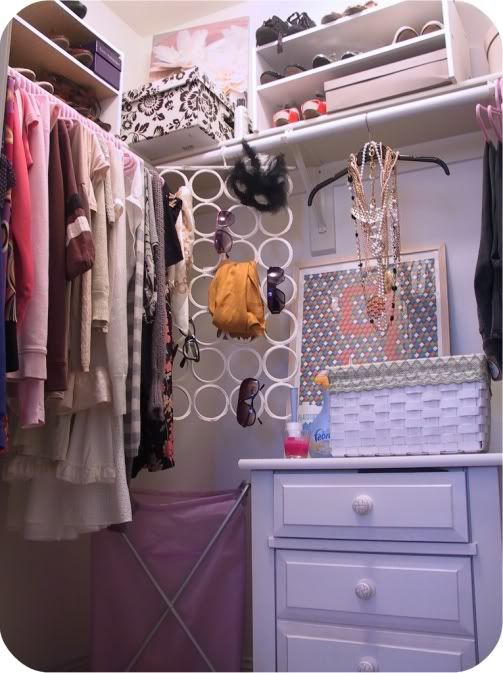 After a trip Ikea, I was re-inspired to layout my new closet. The most drastic improvement, in my opinion, is moving my drawer to be the centerpiece of the closet. In the first drawer, I store all my basics: tees, tanks, camis, skirts. In the bottom drawer, I grabbed two boxes that can stack upon eachother: one for tights/leggings the other swimwear. And in the extra space, I have my belts. I found this neat hanging thing at Ikea that's meant for ties, I suppose. Instead, I hang my scarves and sunglasses on it. And though you can't tell in the picture, my tops are meticulously organized by color.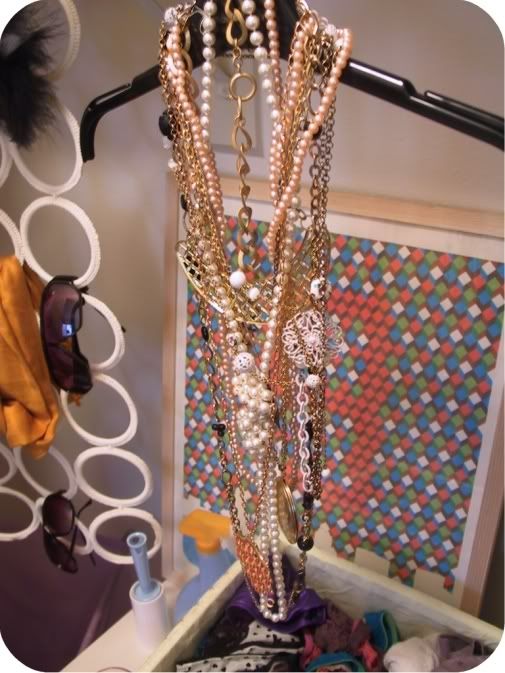 At Urban Outfitters, I snatched this neat framework for only $2! I'm not very attracted to the picture itself, but for such a deal, I find it looking mighty fine. Also in the first 'after' picture, on the top shelf, you can see a lotus lily sort of poster art, and I found that at Ikea for 79 cents! It has few rips in it, but nothing you can notice from afar. My necklaces are here for aesthetic purposes; I'm not much of a necklace wearer. But, I do love the F/W 08 Givenchy vibe the tousled necklaces give out.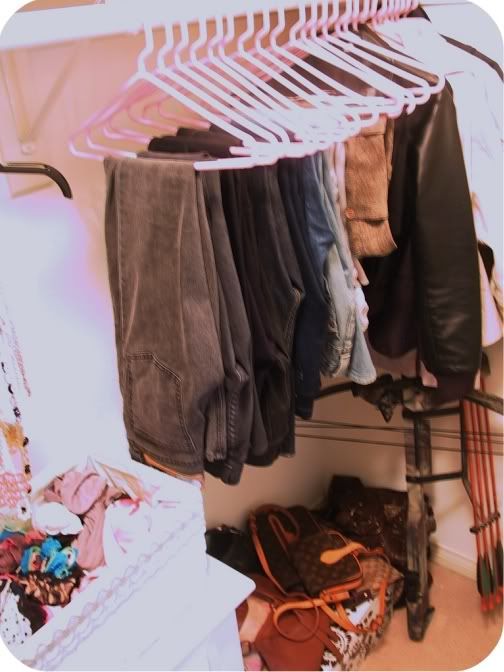 Last but not least, I have my bottoms: jeans, shorts, jumpers, skirts. Behind it, I hid my jackets in the back, why did I do that? I don't know; I needed change. Even my jeans are organized by shade and/or color. At the corner of the picture, you can see my intimates, placed in a woven basket for easy access. On my floor, I rotate my sleepwear in the Ikea box and throw my purses on top. 
I do have a crossbow, it's nicknamed 'The Devastator', and Ted always harasses me for it. It's pretty much the highlight of our conversations when we meet knew people. "Yeah, this is Rachel. If you're going to her house anytime soon, look in her closet. She has a crossbow in it." Ted, if you're reading this, I tore off the Paige poster, so don't even try using that against me.