Pretty much the highlight of our Fashion Super Bowl -- the moment we have all been waiting for: Paris Fashion Week. Because Paris Fashion Week has its reputation of overwhelming viewers with fashion orgasms, I decided to do not six, not eight, but nine runway reviews. It would've been ten had Dior not disappointment so. But, we'll get to that later.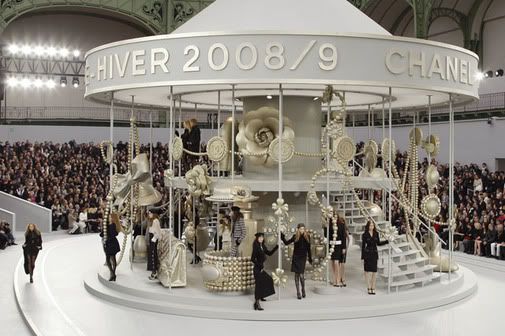 I decided to open the post with a magnificent runway setting: Chanel's. Sometimes, I find their sets to be a little tacky, but the merry-go-round was genius! The quirkiness told a story in which I imagined to be a rich seven year old romping around in a Chanel tweed dress while licking a four-inch pastel round lollipop with a Chanel logo slapped on the front. It's heaven.
As cheesy as it may sound, almost as if I took it out of the end pages of US Weekly magazine, I can't resist: "I know the clothes are saying no, but I'm saying yes!" Who know what their intentions were in with the words: 'no', 'wow', 'dream on'. I figured it to be a subliminal message to my little brother to stop playing World of Warcraft (no WoW!). I love the gimmicks throughout this collection, after all, fashion isn't fashion without a little bit of eccentricity. What I love more is the range: extreme delicates to strong bold and edgy pieces. I'm curious to see how this will be translated out of runway.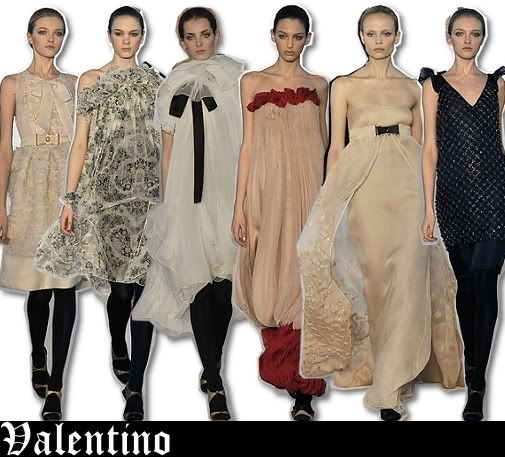 I was very anxious to see this collection, for as you may know, Valentino retired and Alessandra Facchinetti took over. I liked her work at Gucci, so seeing how she would translate her inspiration by means of Valentino kept me anticipating. I do like this collection... if it were under her own label. She didn't necessarily embrace the Valentino feel; it looks a little younger with a touch of YSL, yeah? It's a good step, but let's not get a leaping. I reckon the pressure is extremely heavy being she has large shoes to fill. But for a first timer, I think she did a pretty decent job. Honestly, the more I think about it, either way she branches, critics will be talking. If she takes too much from the archives, she's completely copying him. However, like this collection, changing too much of what's expected causes an upstir. Maybe, next season she'll brush up on her progress and follow Valentino's vision a little more.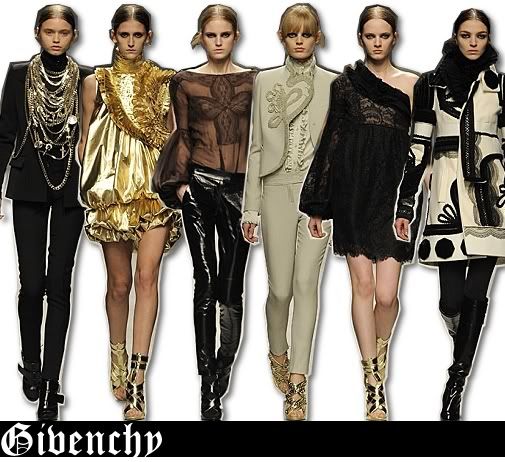 I love the goth vibe combined with the post-punk feel. Just about every aspect of this collection is divine, except the shoes.; they are a little stale and slightly orthopedic looking. I especially love the attention to detail with the heavy jewelry, textures, and layers. And because this collection consists of only three colors, but still delivers, proves that this man oozes talent.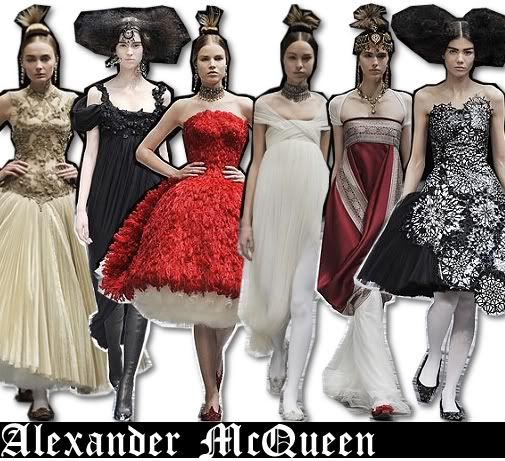 To start off with, I find it very difficult to say anything bad about McQueen; I've always found him extraordinary inspiring. I particularly find his aesthetic collections to be an emotionally engaging experience, namely his Fall 06 collection. It's hard to top his perfect combination of the dramaturgical and the wearable -- yet still be lusted. This collection, while I do this it's absolutely gorgeous, isn't up to par for McQueen's standards and in fact seems a little too literal. Usually, his better collections are over-the-top; that's what he's known for. Let's hope to see that next season, till then, I'll zip my mouth.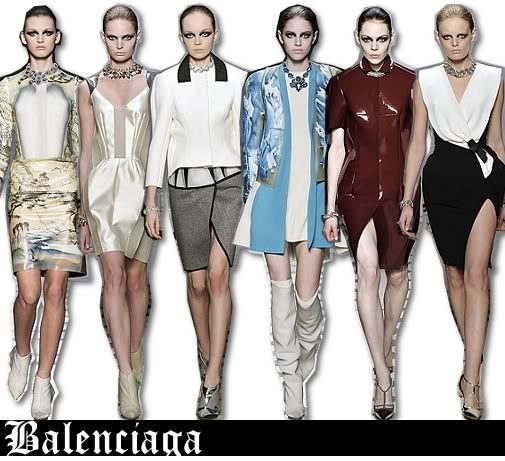 I wasn't too fond of this to begin with, until I saw the detail shots of the pieces; only then, did I truly appreciate this collection and all of its exquisite details. I thought to myself, how am I not infatuated by Ghesquiere? The collection itself provoked me in many ways with its bold edges, sterile appearance, stiff molds, cutting architect, and discrete sex appeal -- this is Balenciaga, only transmogrified. This is what I love about fashion, some how, some way, only in the mind of the insanely brilliant, can one design a collection that collaborates well with archives, sends a fresh look to put other shows in shame, yet hold onto the label's voice. I applaud Nicolas's bold and fierce takes on fashion; he will continue to pioneer this industry. 
I feel like I'm in the minority for liking this collection, especially the Aeon Flux inspired makeup and hair. Pilato does wonders to a sharp, chic collection by strongly contrasting grey, tying in loose fits, and sporting platform heels. The set itself was breathtaking, which gives the outfits more brownie points. Even then, I think if I saw the right-most grey coat on the racks, I'd instantly fall in love. The whole collection is minimalistic with a 70's/40's twist.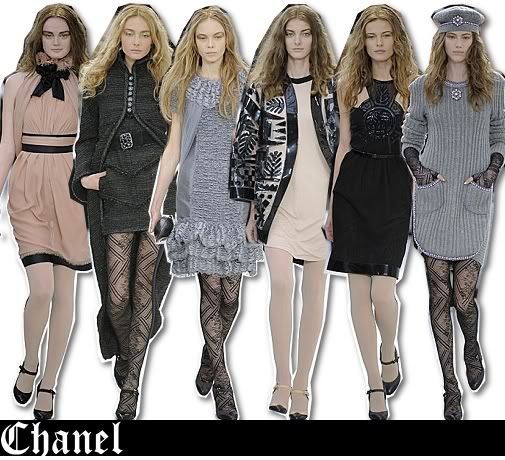 After being disappointed by Karl for the past few seasons, I was about to give up. But man, does this guy know how to redeem himself with a bang. Apparently, Karl figured to strip the models of accessories because it's already displayed on the merry-go-round; I love it. Chanel never has me floored, especially since it's probably one of the most predictable labels. The collection, however, is still very chic, wearable, safe, and most importantly, Chanel.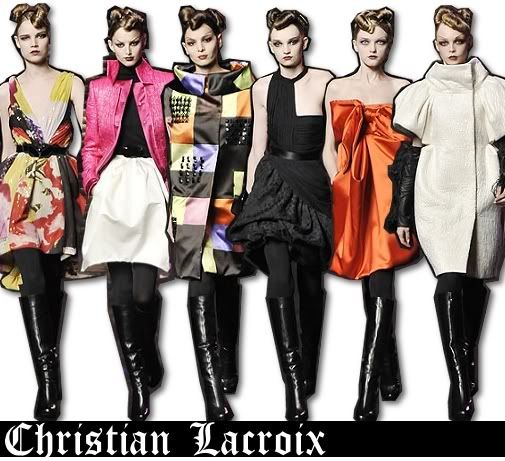 I'm not crazy about this collection, but at the same time, I'm fairly impressed. I love the use of colors and the silhouettes -- very french. Not that we haven't seen the bubble hem in countless runways. I love the dresses for its wearablity as opposed to a lot of the theatrical, costumey stuff this season, which I still love. What I would give to show up to a cocktail party in the orange dress. I'm not a fan of the hair though, nor the makeup; it's a little too much at one time. Then again, this is Lacroix.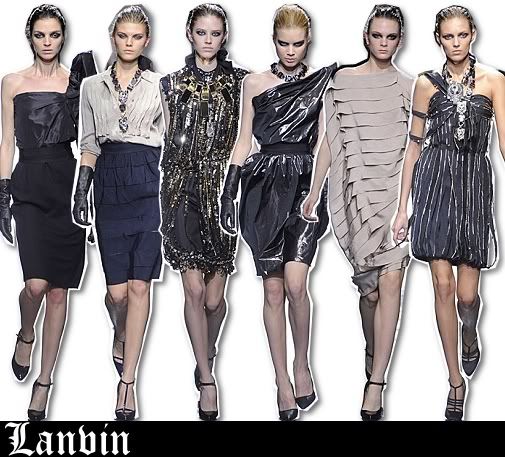 When does Lanvin ever fail to deliver? As the pictures were surfacing, I held my breath. I don't even know where to begin. From open to close, my mouth was gaping wide open in astonishment. Though the collection is mostly black (black can often times come off as outplayed and boring if done incorrectly,  or downright brilliant, like Lanvin), the collection is a burst of modern style to the inspirations of an eager fashionista. Alber is one of my favorite designers within reason; he's extremely relevant and always bringing something to the table. While I go through a collection for these posts, I try to pick my top 6; however, Lanvin was most difficult as I came up with 10 favorites. In my opinion, what differs a great avant-garde-eqsue collections from a good one, is the ability to look nonchalant. Lanvin, my fellow readers, is undeniably, desirably nonchalant. 
As you can see, I didn't put Dior up. I anticipated it, but found myself very dissapointed in the end as he failed to come up with something new. I never found Austin Power sweeties to be very fashion forward, nor Miss Piggy. I rather not waste my energy putting together a collage I didn't like one bit. 
FW08/09 Trends
: smoldering makeup + pulled back hair, masculinity, over-sized bows around the neck, fur (totally forgot about Jean Paul Gaultier), orange, strong collars.
What was your favorite show this season? Who disappointed you? What do you look forward to buying come Fall (even thought we're barely getting our of Winter)?