In honor of Daylight Saving, I decided to dedicate a post on it. Time is springing forward. Up until now, I thought we were gaining an hour; that's what I originally anticipated to revolve this post around: the extra hour. To my dismay, we actually lose an hour, so this post goes out to fitting our entire day from work to partying an hour behind. Horrible, I don't get enough sleep as it is.

Going into more depth about the concept of time, one would come into realization that fashion, our everyday inspiration, revolves around time. Whether it's a expansion of time between one decade to another, or the simple means of killing a few hours. Either way, we are subconsciously inspired by the simple things we overlook from a day to day basis: the weather, time of day, our friends. Even though I don't have solid proof to back up my theory, I'm sure they is some psychological way to prove it.

Keep in mind that you can click the pictures to get more information about it.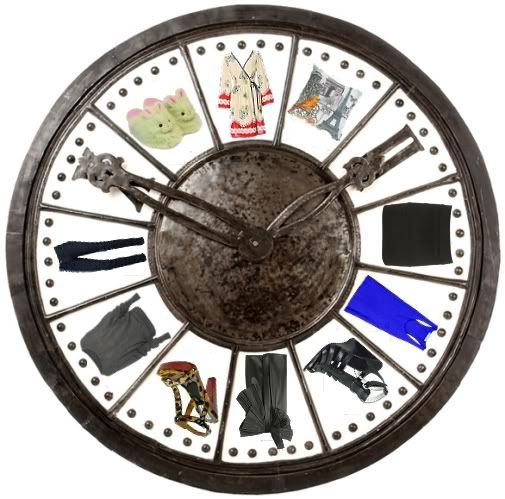 11am - 1pm: I love sleeping in simply because I never have the time to. I guess you can say I'm slightly an insomniac. No matter how early I have to wake up in the morning, or how little sleep I've had the night before, I can never bring myself to sleep before midnight. Usually, I have to wake up around 6:30 - 7:30 from my day to day basis. So, extra sleep is very precious to me. The best feeling in the world is being able to wake up in a cute robe, have the house to yourself, and slip your feet into slippers for brunch. And after a good home cooked meal, slip into a bubble bath, courtesy of Lollia.
3pm - 5pm: Let's just say I get called into work on my lazy day off. The first thing I'd throw on is a skirt from American Apparel; I strongly advise you to invest in it. It's something I can throw on and pair with anything in my closet for a quick outfit. Because I'll most likely be annoyed that I got called into work, I make sure I'll look profession with the I-don't-want-to-be-here-so-I-threw-this-outfit-together-on-my-way-out attitude by throwing on a loose tanktop. Until then, I really need to invest in those Nine West shoes; I can't get enough of them!
6pm - 7pm: I realize this is out of order; I really had no direction starting this post. Well, because 6pm/am - 7pm/am is the worst time to party, but let's imagine it's 9pm, and we're about to go to a masked party. You may realize that I always pick black dresses for these night-out posts, but I honestly can't help it. I even try to avoid picking black dresses, but they always have the best silhouettes. Like this Marc Jacobs dress, it's a gorgeous shape and I'm absolutely infatuated with the shoulder bow. You can never go wrong with accessories with a black dress on. And I've been having this strange lust for masks lately, expect a personal DIY post soon.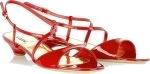 8pm - 9pm: See how out of order this is? This is supposed to be the casual outfit, but after a long night of partying, the last thing you want to slip into is something 'casual'; I'm thinking more along the lines of 11am - 1pm outfit. So once again, let's assume it's 2pm - 4pm and we didn't get called in to work, and we're getting ready for the masked party tonight. It's obviously too early to get ready, and it's too late to start new plans, so this outfit accommodates us with our lazy shopping days and wandering around the boutiques of Laguna Beach while talking about the party. Gotta love how insta-casual a loose cardigan is.
If I can get up early enough, I would love the mornings. I love knowing that I have the rest of the day to myself, and I love brunch food. Other than that, because I'm obviously not a morning person, I'm most happy in the afternoon. So what's your favorite time of day/night?