Milan and Paris, unsurprisingly, are my favorite locations for fashion week; it's definitely like the Super Bowl of fashion. I also prefer F/W Ready to Wear to S/S Ready to Wear, so you can imagine my enthusiasm.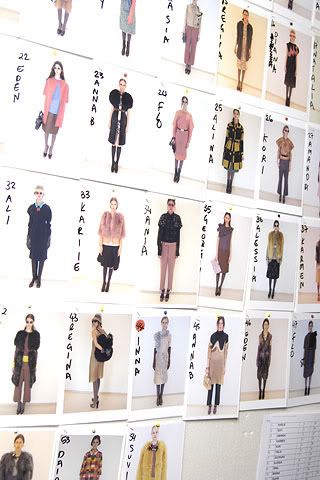 Rather than breaking up Milan's fashion week into separate parts, I realize that it'll be more overwhelming (in a good way) to splash into this crazed world of fashion all at once. Care to join?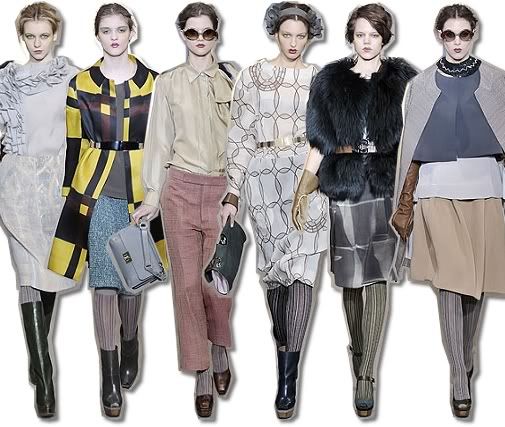 For the most part, I like how this is styled in terms of mixing color and fabrics. The collection stays true to expectancy, nothing new yet nothing old, and for that Consuelo gets kudos for great consistency. I also think the pieces will look extraordinary individually. I hate saying anything bad about Marni because it's one of my favorite labels; I do love the variation of fabric and colors and how cohesive the collection is, but is it a little too Prada inspired?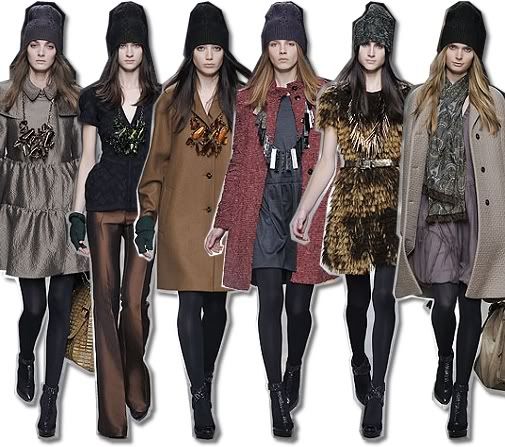 You know, with the exception of the random, high ski beanies, I actually like this collection, even though its repetition at best. This to me screams fall/winter with the gorgeous autumn colors and if you check out the details via 
Style.com
, you'll come face to face with exquisite accessories ranging from spiky bracelets to towering patent platforms. What really took the collection home for me and saved it, were the feather dresses; I'd love to get my hands on one. I also like the how Christopher tried to modernize the classic soul of Burberry with play of embellishments.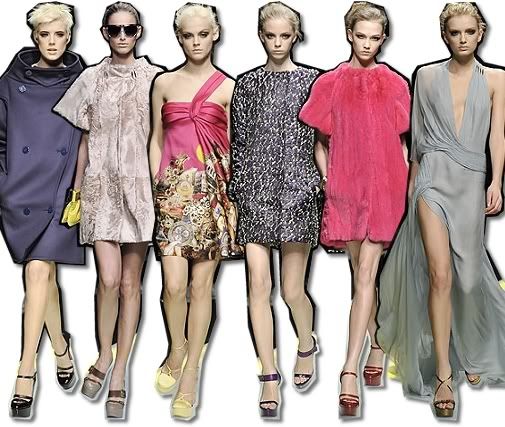 This is probably one of my favorite collections in Milan -- a stunning, cohesive yet diverse collection. I can't even begin to call out my favorite pieces for I'm almost speechless. I love the creative neckline of Agyness's coat and the oh-so elegant dress on Lily is to die for! The collection had a few dresses that would suit S/S more (like the one-shoulder pink dress), aside from being the black sheep, I would love to see similar dresses in the S/S09 collection. I didn't realize that my picks were siding towards the brighter parts of her collection, but the darker pieces are equally gorgeous. Did I mention how fierce the shoes are?! I love it! I miss the long, flowy hair and I hope to see that next time. Oh, and more brownie points: Daria opened and closed the show. Leave it to Versace to save fashion week.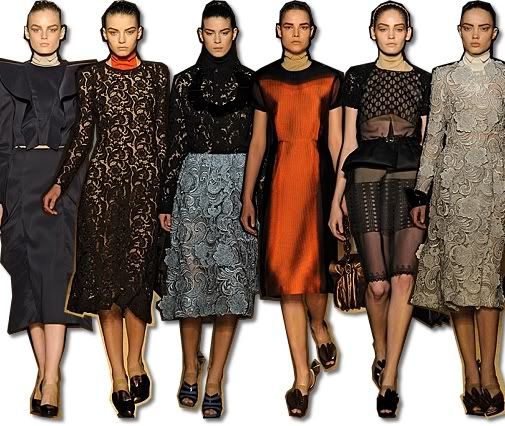 I didn't like this collection at all at first, of course, things always find a way to grow on me. Prada has this way of provoking everyone's attention -- whether you love it or hate it. Surely enough, the collection is heavy on the eyes and the epitome grandma chic, which appeals to certain people, but certainly not everyone. But what I love about Prada is that it's constantly redefining standards, blending in fashion and art. So while I don't like this collection in a practical view, I can say that I'm head over heels for it in an art exhibition way.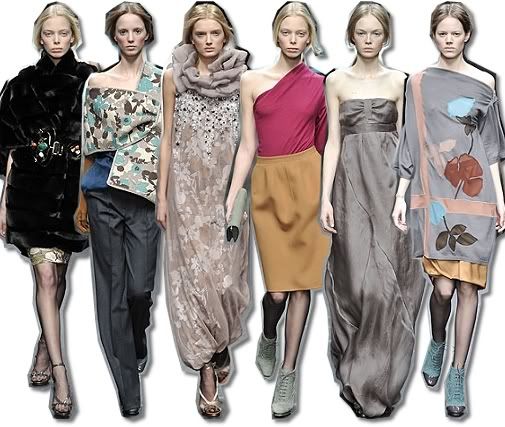 When the pictures started flowing in for Missoni, I was pretty shocked to see the lack of an overwhelming use of bright patterns. I normally don't care for Missoni, but maybe it's the fact that she went in a completely different direction, or maybe it's the fact that the collection has this a la Marni feel to it. But I love how Angela still keeps true to her roots with bright saturated colors that still work perfectly together. And may I say that I
love
Tanya's pink/orange outfit and Lily's dress.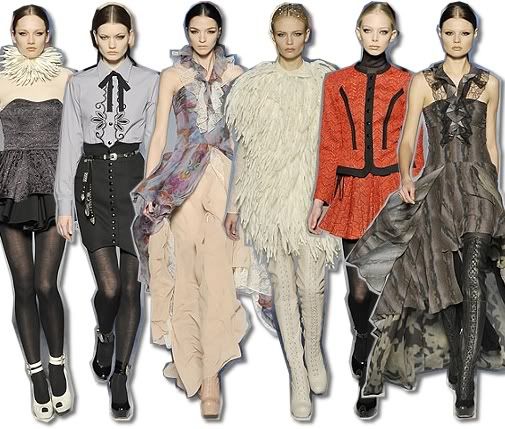 Now looking at this, I don't like it as much as I did before. I particularly like Mariacarla's dress that display great movement, prints, and (usually despised) ruffles. There's some good variety along with some strange, odd pieces. Maybe I like how she channeled Viktor & Rolf in terms of inspired men's wear or Balenciaga's coats. Maybe not, now that I'm slowly losing appeal as I talk about it. 
Milan was either a hit or miss for me this season, at least there's Paris is starting! What was your favorite show in Milan? What disappointed you? Who are you looking forward to see in Paris?
I'm almost afraid to blog about Paris FW because these take a while to do, and I have my mind set on blogging about: Dior, Westwood, Comme Des Garçons, Lacroix, McQueen, Chanel, Chloé, Lavin (!) and Miu Miu. Can't wait.