I've been needing a new pair of jeans, and since I'm also tired of my dark skinny jeans, I wanted to invest in some light-washed ones. After school, I stop by South Coast Plaza to shop around, namely Ron Herman. I'm watching my feet as I walk to entrance of the store, only to be blocked off by a box that just completely covers the store. I'm a little taken back by this because this usually means that a store closed -- but I was at Ron Herman no more than two weeks ago. I worked my way over to a concierge, and surely enough, Ron Herman closed and the closest one was an hour away. That took a toll on my shopping experience, and really, put a huge damper on my will to shop again. Really, I just had to vent.

With school starting back up, I haven't had the chance to post as much as I would like. I am working on a few posts however, so I'll hopefully get those up and going. As promised though, more wearing todays!

California weather has been extremely weird: it's raining for an hour, then it's sunny, then your black car heats up, then it's chilly, then it's dark. Anyway, with the ever changing weather, and my lack of desire to look properly groomed (School in the ungodly early mornings and work right after. The option to go home and change is out of the question and way), and my requirement to look decent at my job, it's hard to mesh it together in one outfit -- somehow, I managed to do so.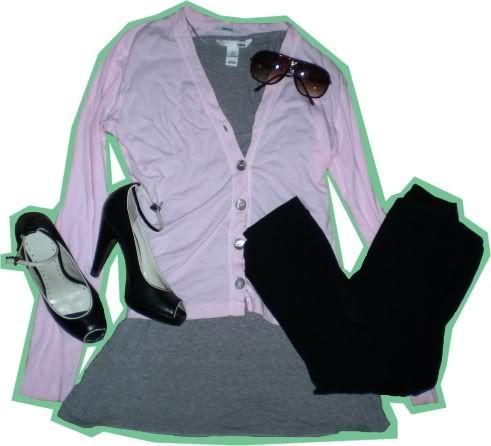 Pink Cardigan: Ron Herman's MORE
Tunic: H&M
Tights: Target
Heels: BCBG
Sunglasses: Urban Outfitters
I took a tunic that was long enough to wear as a skirt over tights, buttoned up a pink cardigan for freshness and color, and heels to add some professionalism. To add a college hipness to it, I have the retro glasses working with me, and: loves it.
P.S. I was planning on doing the video blog cast on Thursday, it doesn't look like I can do it. Maybe next Thursday? Unless, you really want me to do it on Thursday, then I might be able to do it around 3PM - 5PM PST. The link would be here:
Justin.tv/raych