I've been dragging this on for a while, but I finally got the post up! I'm sure most of you have seen these being that a few are floating around the Internet like an STD at P.Diddy's party or you've been reading recent magazines. Either way, here are the ones that I've expected and loved... or not for some cases. 
Chanel S/S 08 : Claudia Schiffer by Karl Lagerfeld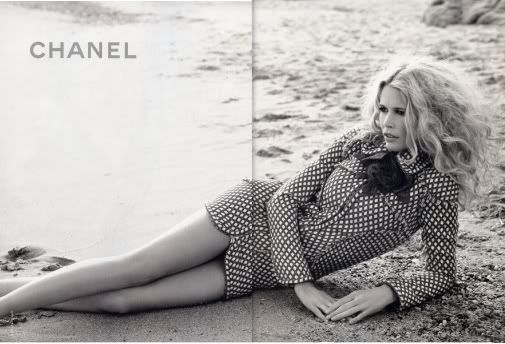 It looks like it's back to basics with Chanel. The black and white photography catches my eye because it's simple -- not that much is expected from Lagerfeld as a photographer. Nonetheless, Claudia looks pretty and she puts some decency to his tacky collection. 
Burberry S/S 08 : Agyness, Lily D, Coco Sumner, Alice Gibb by Mario Testino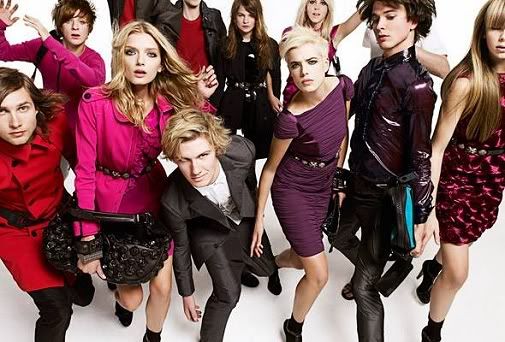 Reading The Fashion Spot, a lot of people confessed that they don't like how cluttered and random this ad is. I on the other hand LOVE it; it's one of my favorite ads this seasons. This is spontaneous, whimsical, colorful and in-the-moment. Not to mention, Lily's expression is too cute.
Dolce & Gabbana S/S 08 : Jessica Stam, Gemma Ward, Lily Donaldson by Steven Klein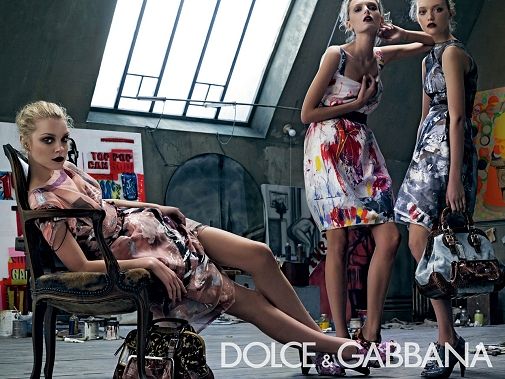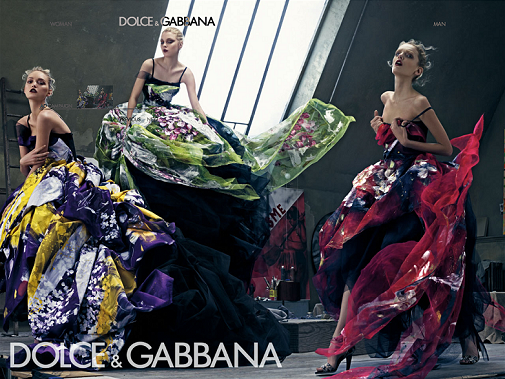 Stam wasn't a good pick; she doesn't seem like Dolce & Gabbana material to me. Lily looks like she's copying Charlize Theron's Jadore perfume pose and Gemma looks perfect in a safe way. However, the picture with the gowns is flawless. I really have no words for it. The movement and fierce makeup really draws me in. I would rip this straight out of the magazine to find a place to put it. Hm, office cubicle.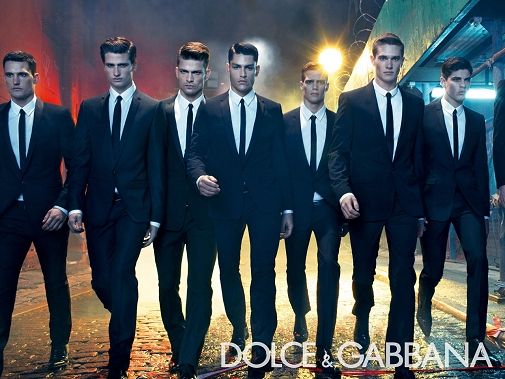 It's nice to know Dolce and Gabbana didn't stray away from having plentiful models in a campaign. The ad itself is unoriginal but the picture still looks good. For once, there's no naked male models, so that's a nice, unexpected twist.
Balenciaga S/S 08 : Jennifer Connelly by David Sims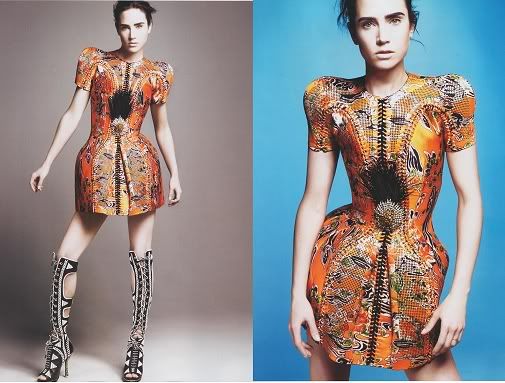 Jennifer is a stunning actress and I fell in love with her watching A Beautiful Mind. Seeing her red carpet pictures, she proves that she can look quite stylish, though she is not considered anything par to a style icon. I find the clumsiness of this ad to be quite amusing and somewhat charming. I'm sure we'd all prefer models to stick to fashion and actresses to movies and shows, but I personally think it works here. And as much as I love this ad, I think Daria's take would have been devastatingly gorgeous:
click here
!
Chloe S/S 08 : Ali Stephens by Craig McDean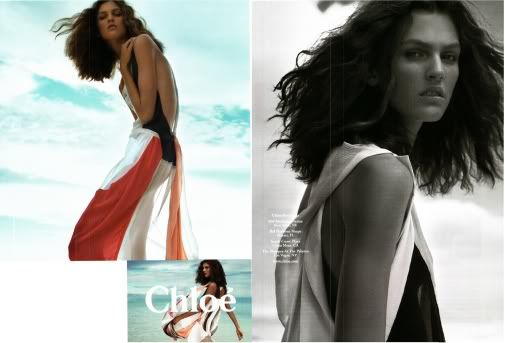 This is a step down from Chloe's FW 07, FW 06,  SS 05. I miss the ads that Chloe is known for its spontaneity. Kudos for a different theme and Ali looks pretty, but it's boring to me. I'm sure it'll eventually grow on me -- all Chloe ads do.
Christian Dior S/S 08 : Jessica Stam, Coco Rocha by Craig McDean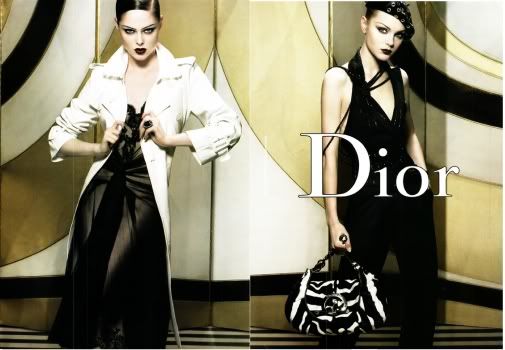 One word: tacky. I love Jessica Stam, I really do. She's an absolutely gorgeous girl, but I'm tired of her modeling pictures. Perhaps she's getting cocky? Needless to say, this
is
 better than last season's ad. Jessica's wig did not do her justice. And what's up with Coco? She does not suit Dior, but we can thank her for not doing that stupid thing with her lips.
DSquared2 S/S 08 : Anja, Maryna, and Tanya by Steven Meisel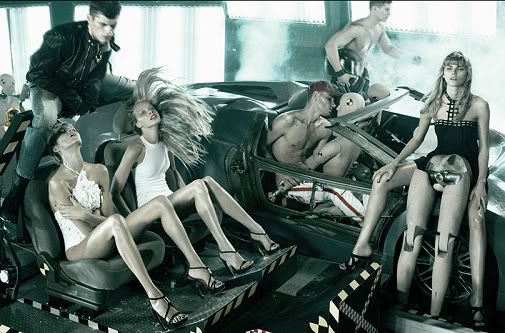 Steven Meisel does it again and proves it in this extraordinary ad. The truth of flaw is, it's a little too Dolce and Gabbana for my taste, which makes me wonder if he's spiting Dolce and Gabbana for choosing Klein over him. Who knows. All I know is that Tanya steals the spotlight.
Fendi S/S 08 : Raquel Zimmermann by Karl Lagerfeld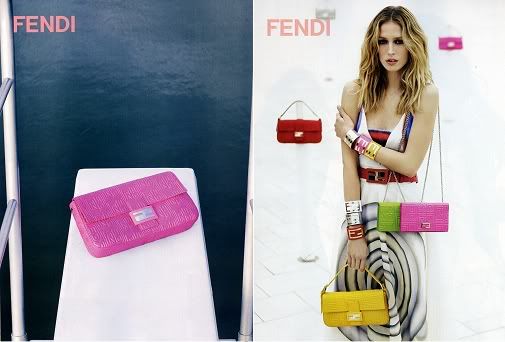 Can Fendi be any more boring? The last few seasons have been drab. I like the purse itself on the plank, but come on, I can throw a few designer bags on my little cousin and she'll look better than Raquel. 
Gucci S/S 08 : Natasha Poly and Mat Gordon by Inez & Vinoodh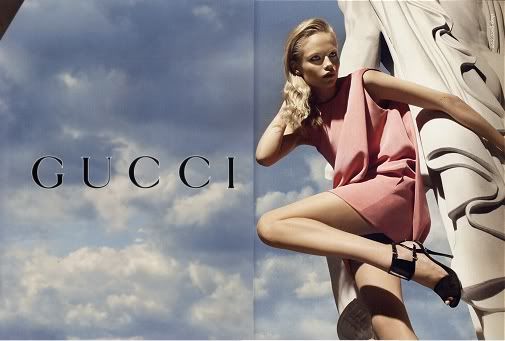 Gucci took boring and twisted it to borderline genius. Simple can sometimes be good, I get it. But think about it: it's mainly a picture of clouds, part of a statue of some sort and a ridiculously sexy Natasha Poly. Sounds boring, but change perspectives and shoot in a different angle, you have a masterpiece. Touche Gucci.
Marc Jacobs S/S 08 : Victoria Beckham by Juergen Teller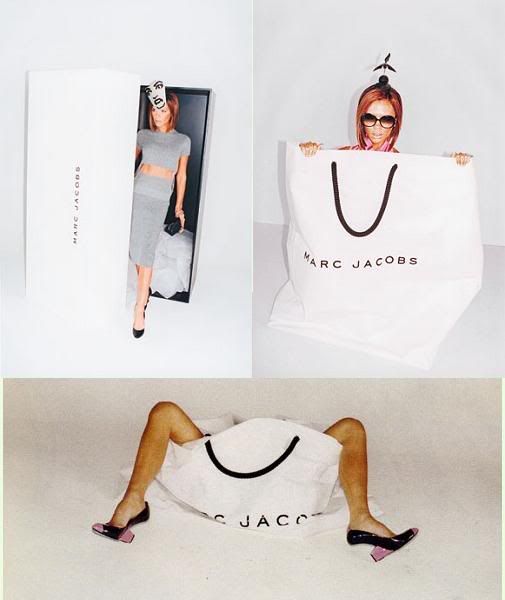 Despite what people think, Victoria Beckham is a sarcastic and witty person. She's a lot smarter than she makes out to be; this ad here proves it. It's clever. It's tongue in cheek. It's funny. People think Marc is secretly poking fun at Victoria, but come on people, snap out of it. It's business, why would Marc put an ad based on someone whom he finds distasteful? It's too obvious. Well played Victoria Jacobs.  
Miu Miu S/S 08 : Kirsten Dunst by Mert & Marcus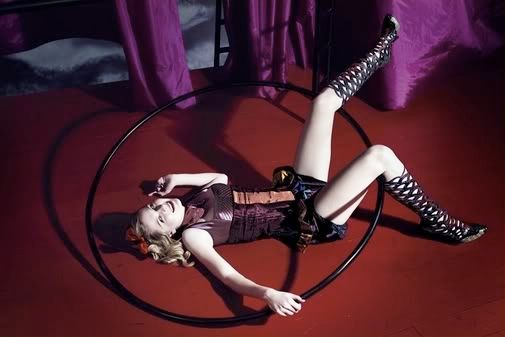 Why does Miu Miu always prefer to feature actresses in their ads? Not that I'm complaining because Kirsten is a huge upgrade from Lindsey. Kirsten really does suit the collection and I love the deranged circus feel to it. Her skin plays an amazing contrast and gives off this mysterious vibe. Loves it.
Versace S/S 08 : Gisele Bundchen by Mario Testino
It's not wonder Gisele is the highest paid model; she is downright sexy. The ad is simple, elegant and Gisele is a great match for Versace. Seeing her out of the Victoria's Secret bubble gives me the double takes, but here, it works. I'm not in love, but mamma likey.
Prada S/S 08 : Sasha Pivovarova by Steven Meise

l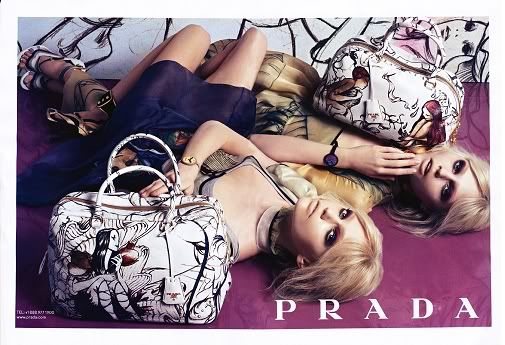 I like this season Prada ads more than last year. Prada may be overusing her, and I fear it might grow old, but based on her performance and delivery, I don't see why they wouldn't. If you check Prada's website and view more shots, you'll be absolutely floored at her incredible skills as a model. I imagine it's not easy pretending to model with yourself. 
Lanvin S/S 08 : Olga Sherer by Steven Meisel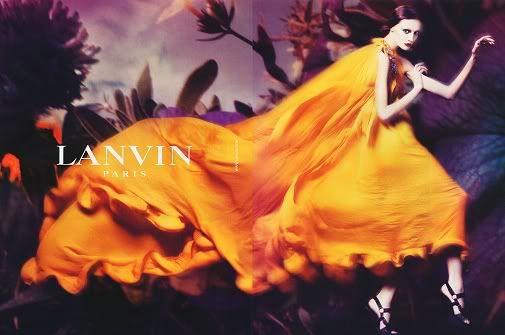 I saved the best for last of course: my favorite ad! Understating this, Olga meshes haunting and gorgeous art into this picture. Not even exaggerating, when I first saw this ad, I got the chills. I didn't know what to make of it. I'm not going to lie, Olga looks a tad creepy in this shot, but it's absolutely brilliant! I really can't look at her face too long, but that dress... it's divine. It's was unexpectedly mind blowing. 
There's also a few more ads that I wish I could talk about, but I just got lazy. Like Kate Bosworth in Calvin Klein -- gorgeous girl, boring ad. Or Louis Vuitton's colorful ads. I can go on, what was your favorite campaign this season?
Also, I'm still thinking about doing the video broadcast, and I'm wondering if a good amount of people will be able to attend. I'm opting towards the 31st. But we'll see. I was grateful that I was able to meet a few readers in Aker's chatroom. I LOVE getting to know my readers. I had fun in Aker's room, so I can only image how much fun we'll have in mine. Let's bring on the champagne!