I hope everyone had a fabulous turkey weekend! Let's just say my weekend was a little crazy and that's putting it lightly. Sorry if I have been / will be M.I.A. I haven't exactly been in my prime the past few days with the cold going around and my boyfriend and I breaking up. Yes, it took me a full week to recover from the shopping, the partying, and the crying.

Of course, I didn't forget about the lovely fashion blogging community, especially when I caught myself shopping for different party outfits for all the events I was invited to. Then, it dawned on me: It's party dress season! But with so many different readers, and ever changing trends, it's hard to blog about just one type of dress. Luckily for you, there's a lot more where that came from. I narrowed all my favorite styles to five different dresses that will bring so much personality to your outfit with mix-matching colors and accessories. Loves it.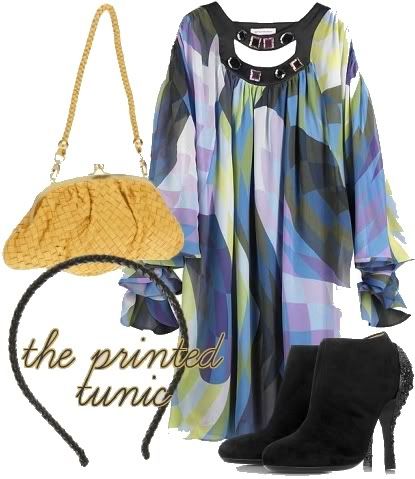 Dress:
Matthew Williamson - Not that you had to be into it, but if you watched a few episodes of
The Fashionista Diaries
, then you might know Bridget. I absolutely love the way she dresses and this outfit is the epitome of Bridget. Throw on a good pair of tights or leave them at home, this ensemble is flirty, appropriate, and certainly chic.
Purse:
Inge Woven - When it comes to going to a party, I'm very picky about purses. I rather leave my stuff in my car and my cellphone in my bra than to carry a purse. However, this purse is adorable; it keeps the outfit casual and has a great accent color!
Ankle Boots:
Mui Mui - Love Love. Pumps can be so overrated. Go out on a limb and try a pair of ankle boots with a dress that ends around the knee -- great proportions.
Headband:
Urban Outfitters - It's not much, but a headband can easily make or break an outfit. In this case, it's definitely making it.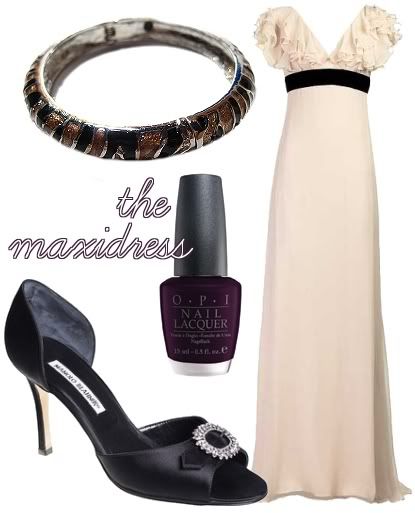 Dress:
Notte by Marchesa - One of the more recent trends is the maxi dress; this look can go many ways. There's still the bohemian chic loitering the scene and there's also a more classy take on the maxi dress. I've seen
Ashley Olsen
in a few gorgeous, ritzy gowns. This is a far more formal look, but you never know how posh you'll need to look for the rest of 2007.
Bangle:
The Fusion Boutique
- Keep your accessories simple, but it never hurts to add a little to your look. Break from the formality of the dress with a little of your wild side.
Nailpolish:
OPI (Siberian Nights) - Lately, I've been enamored with dark, purple hues for nails. Black is so overrated.
Shoes:
Manolo Blahnik - One doesn't need such a high heel for a long dress, unless you're 5'2. I actually like the way the dress drags, but that's just me. Other alternatives? Tennis shoes. It's not like anyone can see them, just so long as you have mile long legs.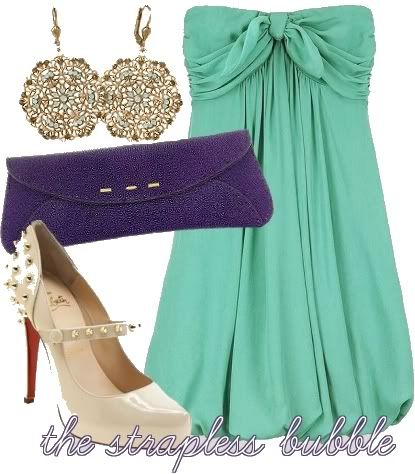 Dress:
Jay Ahr - This has got to be my more favorite silhouettes. That might be the fact that I think I have an amazing collar bone and shoulder blades, but that's just me. A normal strapless dress can be lifeless and flat, but the bubble hem just adds so much volume, it's meant for the dance floor. Not to mention, the color is absolutely breathtaking.
Earrings:
Anthropologie - You have to accessorize from the chest up with one asset. I prefer to keep my neck bare and go for the fun earrings. There's no rule to this! Have fun while picking out your jewelry. I chose these funky statement medallions with a jade undertone.
Clutch:
Marni - As I had said earlier, you can accent your outfit with your choice of handbag or your can contrast colors and have fun. Eg: Yellow + Red or Blue. Green + Purple. Orange + Baby blue.
Shoes:
Christian Louboutin - Mary Janes are in right now, possibly losing it's place in the prime, but someone pissed Mary Jane off because these shoes are badass. Enough said, you can never go wrong with Louboutins.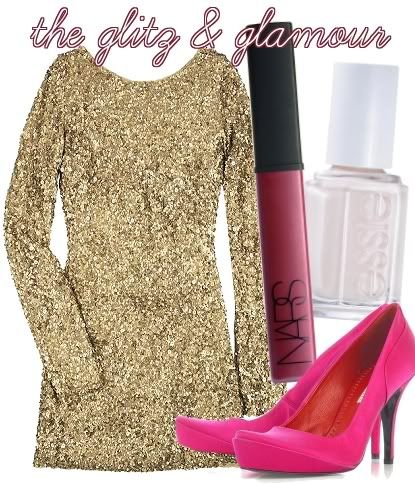 Dress:
Antik Batik - My second favorite look. The full blown glittery dress definitely tickles my fancy. Its devastatingly eye-catching, in the most praised way possible. Wear it to the club, your friend's dinner, or just a drunk fabulous house party, either way, be the center of attention.
Lipgloss:
NARS (Bed Education) - No need for the rinky dinks. Just have a fresh coat of gloss on a la Gossip Girl and you're set for the night.
Nailpolish:
Essie (Baby's Breath) - A good light shade is perfect to neutralize and freshen the glitzyness of your presence.
Shoes:
Stella McCartney - What girl wouldn't want to own a pair of hot pink stilettos? Perfect touch to the perfect dress. In fact, I think it's the perfect pick for the gold dress; it's very party going at the same time young and daring. If you don't get hit on at least 5 times in this dress, something is wrong with you, or you look incredibly intimidating sipping down your bourbon on the rocks. Thatta girl.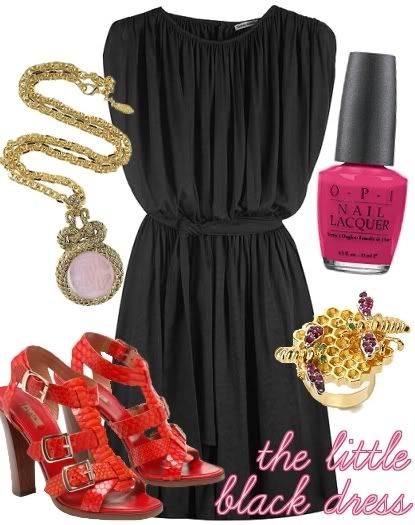 Dress:
Tomas Maier - Who could resist a little black dress draped into a greek goddess dress? No matter the dress shape, you can never go wrong with the LBD. If nothing else, the LBD is the perfect canvas to completely personalize it with pops of colors and whimsical accessories.
Necklace:
Roberto Cavalli - It's apparent that Cavalli makes women go wild, the H&M collaboration for example. But this pendent is definitely chic and will be matching your cocktail ring.
Nails:
OPI - More hot pink for the girly girl. As long as your manicure is fresh, glossy, and clean, it'll refrain you from looking like a 13 year old with her new found acts of adolescent.
Ring:
Anthropologie - The gold and purple along with the huge honey comb design is the ideal mixture for the ultimate cocktail ring. Buzz off and let me mingle.
Shoes:
Alaia - It's a little black dress, wear it how you want. In this case, I went with gladiator heels that leave your feet looking bulky and demanding.
Here's my take on the strapless party dress, click to get a better view.
I got the dress from Forever 21 and the shoes from Nine West, which goes to say, though I used a lot of expensive designer articles in my examples, it should not hold back you from looking posh on your night out. By the way, that isn't my boyfriend. That's my friend Ricky. He's handsome and single.
It's almost 2AM and I'm honestly not going to bother to revise. I had to get this post up soon because I'll be busy the rest of this weekend with work and school. Hope you ladies have fun shopping, ask me questions [via email], I won't hesitate to answer. Opinions are welcome!
P.S. Sorry I didn't get the links up for each piece, I got lazy and being so indecisive with my choices, it was hard keeping track of the links. If you like a piece, try Googling it! Most of the pictures I got off
Net-A-Porter
. Story of my life.