"First off, I love your blog! I know you're a busy girl but I wish you can update some more. I need some fashion advice, feel free to post this on your blog by the way, I know that the skinny jeans are probably the most casual and easy choice but I'm so tired of this route. Not to mention everyone at my school is wearing skinny jeans. I'm a senior in highschool right now and I can't wear high waisted jeans without heels because it's so unflattering on me. I want something super casual and nothing too office-like. Any tips or advice? Thanks!

- Fabulously Distraught"

Fabulously Distraught, I went through the same phase. In my senior year of highschool, the only thing I felt comfortable in were a pair of dark skinnies. They always made my legs look so defined and my outfit instantly chic, but I grew tired of predictability. Don't get me wrong, I still love a good pair of dark skinny jeans, but it was time to move on and learn how to mix match my clothing.

I needed to draw inspiration, and Teen Vogue and Nylon weren't doing the trick. Love the way they put together outfits, but I felt as though I would never be able to pull of their casualty as well as the models do. I eventually found inspiration on Net-A-Porter through their stylishly dressed mannequins. Don't believe me? Take a look at the different outfits to replace your overplayed skinny jeans.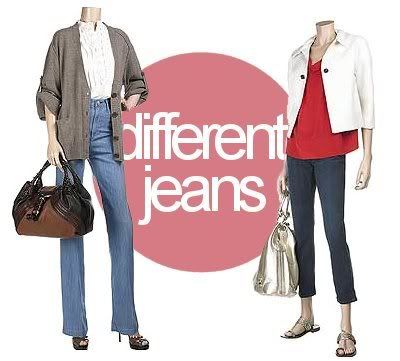 My first step out of my comfort zone wasn't a far step at all. I made sure I was still comfortable with my skinny substitutes by picking out a different type of jean style. If you have long legs, I'd definitely invest in a pair of light washed, high-waisted jeans. Here, you can still keep a skinny leg (otherwise, it would look too much like mama jeans) but still refresh your look and they look good with flats. Another type of pair you can go for are cropped jeans. They're super casual and has a fresher look than the dark skinny jeans. Though, I don't have a picture of it up, try on a few flared jeans and pair them with flats. Trés adorable.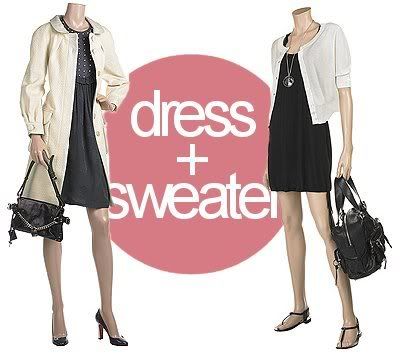 Recycle your summer dresses by covering up with a long coat or cardigan. Considering the fact that I live in California, this is perfect for the weather! I'm not worried about getting too cold or warm. If you live in a colder environment, pull over a cute dress, add a white or black coat, and throw on tights to keep your legs warm. Either way, it's a great alternative to skinny jeans.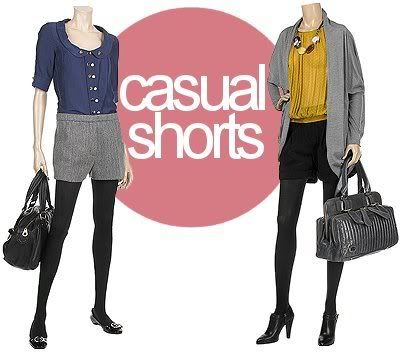 Don't forget about those shorts laying around in your closet and don't be afraid to pair them with tights (gotta love the tights) to add that Fall aspect. I prefer my top tucked into my shorts, but it really depends on the length of the shorts. I don't recommend wearing short shorts with tights; not very fall, and it can be a little tacky. Instead, get nice cuffed shorts and pair it with a flowy blouse for a great instant casual, chic look.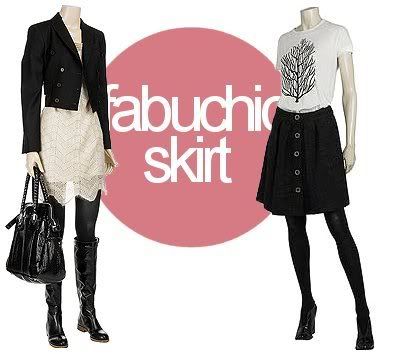 If you're into super casualness, a skirt might be a little much for school, but if dressed properly, it can be done. There's nothing better than grabbing a high-waisted skirt and pairing it with a t-shirt or tanktop. If you're feeling as though the look is a little too much for school, throw over a huge, knit cardigan to instantly casual your look.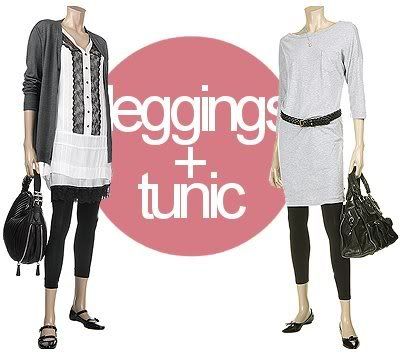 Last but not least, probably the easiest casual look, is the long tunic. Though I'm not quite fond of leggings when one can opt for tights, I have to admit that leggings are a super casual look. In a way, they can look chic if worn properly, such as pairing it with a tunic! Don't just rely on a simple tunic and leggings to do the work, you still have to accessorize. Wear a belt to add shape or a long cardigan if you're still cold!
All of these looks can be easily paired with a cute pair of flats or boots. Take a look at your closet and imagine the possibilities and mix matching goodness! Then invest on simple necessities, like tights and a coat. Good luck on your shopping and do drop by to tell us how your shopping went. Hopefully, this time, you can sign off as Fabulously Chic.
Image Credit:
Net-A-Porter