I realize that today is the last day of October, HAPPY HALLOWEEN! And I started this post earlier, but life has been so busy lately. As you may know, October is not only iconic for Halloween, but it's Breast Cancer Awareness month. I'm not directly related to anyone affected by breast cancer, however, my heart goes out to every single women out there who struggled or knows someone who struggled with breast cancer. So today being the last day to invest in these once-a-year goodies, I suggest you do it now, and do it quick.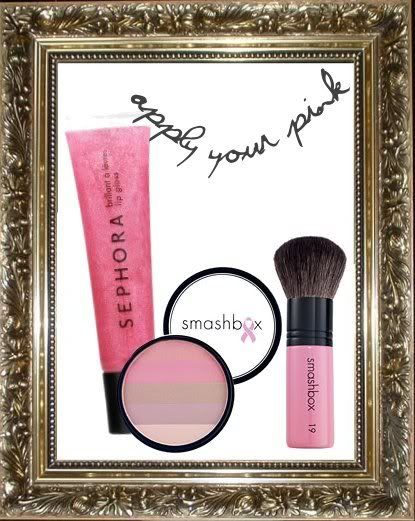 With rosy makeup palettes in time for Fall, it's a great convenience that there's a ton of pink makeup out for the awareness. I'll have you know that I'm a huge Smashbox fan! Absolutely love their blush, I'm currently wearing Matrix and I totally recommend it, I believe it has the capability to look great on any skin tone because it's so sheer.
Lipgloss
,
Blush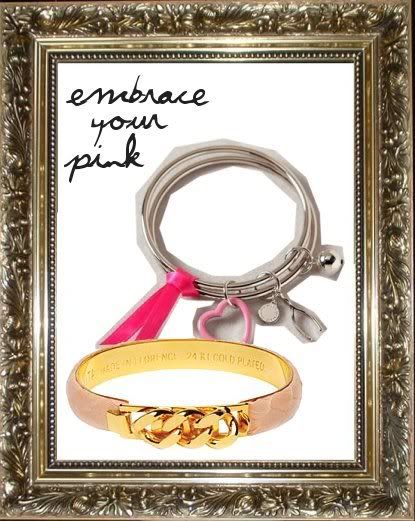 I guess this is a good reason to go out a splurge for your first piece of jewelry by Marc by Marc Jacobs. Not only am I in love with that Marc bracelet, but you're helping out a cause by investing. You don't have that much time to hint, so come up with an alibi, like, now. Don't even get me started on the Vita bracelet, loves those. I have two that I wear religiously.
Marc by Marc Jacobs
,
Vita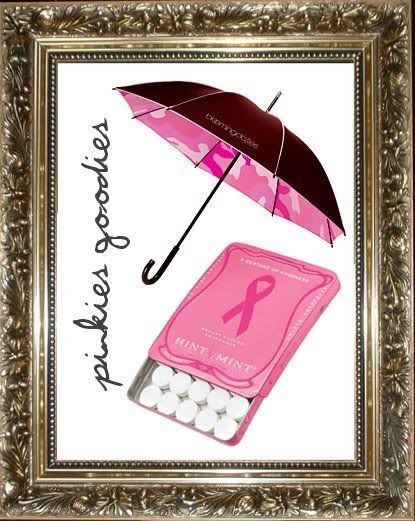 There don't really categorize as much, but I love these miscellaneous objects. First off, you've always wanted to invest in a cute umbrella to prance around in, but you were either too lazy or just haven't found that ground breaking umbrella. I'm not a huge fan of camo, but I have to admit, this is a pretty cute umbrella, not that I'd need it here in California. And what better way to promote breast cancer awareness, than to offer mint in a cute pink tin?
Umbrella
,
Mints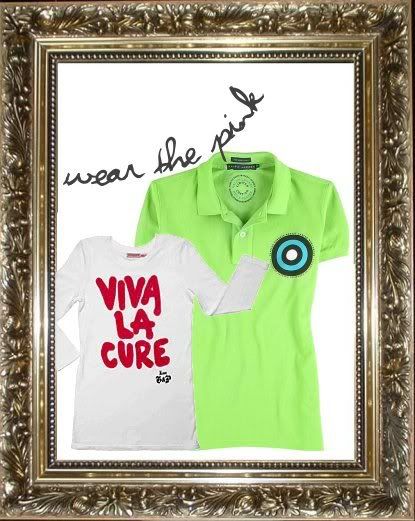 Wear your pink. That's possibly the best way to grab people's attention, and I for on, am loving the Ralph Lauren polos. I normally never wear polos, like, ever. But after watching the behind-the-scenes video with Sasha and Lily, I am convinced that the polo can be brought back. Not to mention, it doesn't look like Net-a-Porter raised that much off the shirts. We can help with that!
Juicy Couture
,
Ralph Lauren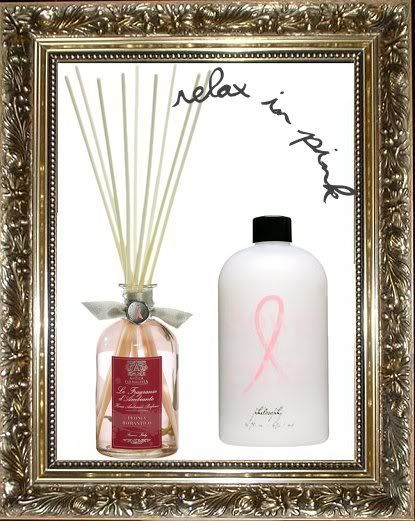 Will all that worrying, donating, and helping out a good cause, it's time relax through a nice warm bath and aromatherapy. Saving the world is one thing. Helping to find a cure for breast cancer is another.
Antica Farmacista
,
Philosophy
Happy Halloween and Breast Cancer Awareness everyone! Stay safe and don't do anything I would do -- like passing out on your front door completely intoxicated. I know I won't! And before you go out partying, don't forget to do one small favor towards the Breast Cancer Awareness. It's never too late and small things can lead to greater meanings.