It's about time to whip out the captivating posts that made That's Chic so distinct; the season's fashion staples. Below are collages that I precisely picked out and put together. I love you guys that much. However, these picks aren't Vogue approved, they're completely chosen through my perspective. Don't be disappointed though, I made sure my picks were not only versatile for your already established closets but trendy as well. I mean, with these staples, you can mix and match with your summer clothes! Here's to an amazing season, also, my favorite season.

Don't forget! Click on the Steal, Splurge, and Spoil buttons to find out more about each product! Hover over the button to see its price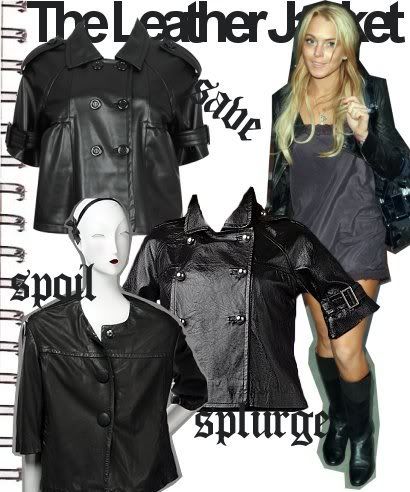 Remember my post a while back about
leather jackets
? Well, I still haven't gotten over them, especially since I found the perfect (affordable) jacket at H&M! Trust me, I wear that thing to death: over a summer dress, skinny jeans paired with a tanktop, or my favorite, my silk lace charmeuse sleepwear. Of course, Lindsay Lohan doesn't fail to disappoint us as she sports her trademark leather jacket -- over the little black dress. And to prevent being repetitive, these three picks have cropped sleeves. It's a fresh take on the leather jacket, but I still prefer the tailored, form fitting jacket.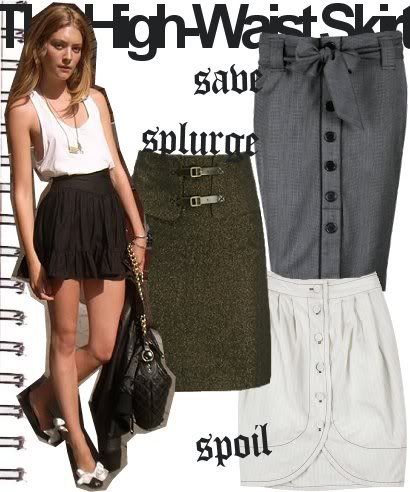 I don't know who this girl is, but I
absolutely
worship her outfit. I love it from head to toe; it's disgustingly perfect. Photo credit goes to:
10.17's blog
. This picture, along with Mary-Kate's interview with Conan O'Brien, amplified my love for high-waisted skirts. Those two are the only types I'd sport, and possibly the only ones I could pull off. I do happen to love the Marc Jacob's skirt I picked out, can you imagine it with a loose black tanktop and navy flats? To die for! Anyway, pair a tight high-waist skirt with any bold, flowy top you own for an instant chic look. Look around Club Monaco for some inspiration (my new favorite store).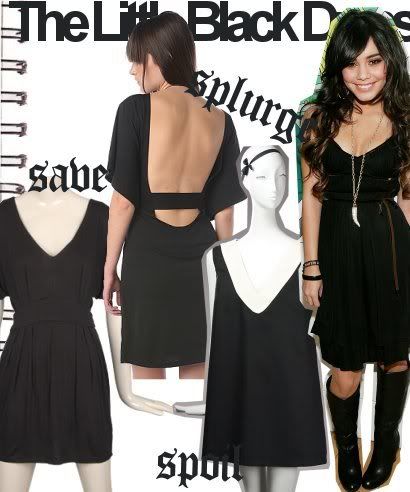 I don't care what you say to me, the little black dress will always be in. It's divinely timeless! Lately, I've been loving low v-neck cuts or blackless tops. I am head over heels for the mini from Ron Herman, it's absolutely gorgeous. The cheapest dress is from Twelve by Twelve, another line by Forever 21, if you haven't checked it out by now, I suggest you do so! Unfortunately, the dress I picked out isn't on the website anymore, but if you click the link, I have another LBD pick from 12x12. And I don't know about you, but I have this love/hate relationship with Vanessa Hudgens. She has amazing style, and while it's not her own, she pulls it off quite well! Not to mention, she is absolutely gorgeous and I can't help but to indulge myself with Zanessa sightings! I am just so jealous of her!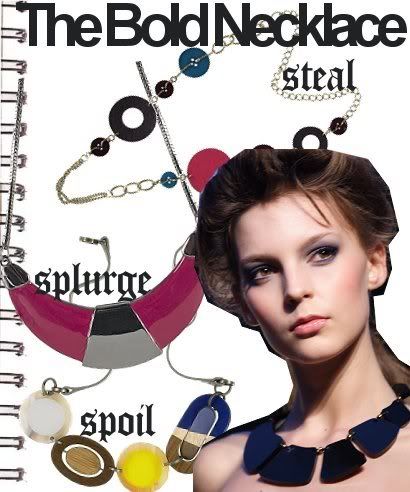 With all the black, there has to be some color somewhere, right? What I'm loving right now are these colorful, bold necklaces! The splurge pick is from Nine West and I'm in love with it! It's definitely more affordable than the Marni necklace I picked out. You have to admit though, that Marni necklace would look so hot with a white tee -- or black.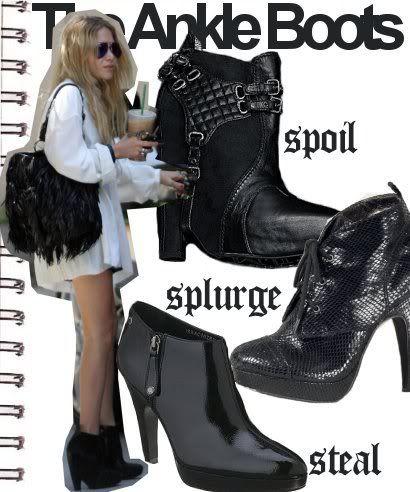 Another popular pick are ankle boots. My best friend works in women shoes at Macys and told me that they're actually selling pretty well. Nonchalantly, I resort to black choices, but don't let that be the borderline of your creativity. Sam Edelman has really cute
ankle boots
. I believe women are a bit afraid to wear ankle boots because it's hard to match it up. I love how MKA pairs her chunky Balenciaga boots (much like the 'spoil' pick') with a casual dress. I personally think it looks best with full leggings or skinny jeans and a flowy tunic. At least, that's how I would wear it. You can also pair it with the high-waisted puffy skirt and a fitted top, some girls can pull off this look, and if you're one of those girls, I'm envious.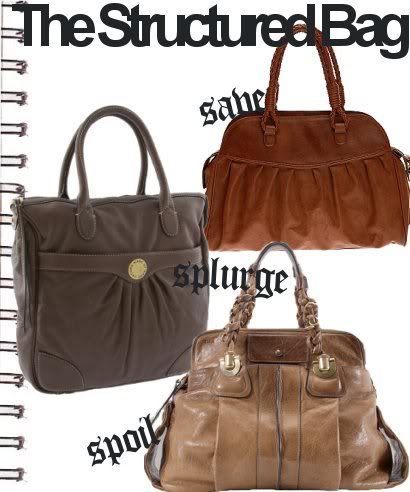 Leather bags are always timeless. But with a twist and turn here and there, designers can turn an ordinary bag into something more modern. In this case, it's time to lust after a well structured bag. With Fall's new silhouettes being either delicate and flowy or skin tight, it's good to have an architectural purse to balance your look. Mischa Barton is not hesitating to sport her new favorite Chloé Heloise purse. (
Picture here
.) By the looks of the picture, she's also not hesitating to sport the little black dress either! Loves it!
With a new found lesson, I assure you will not look at your closet the same in your next encounter. Be glad it's still warm (well, it is in California) because you still have time to shop for these Fall staples. I know my next investment will be in a bold necklace and a black high-waisted skirt. Can you say, Club Monaco raid? Good luck shopping! Email me if you have further questions or leave a comment and I'll reply ASAP. You know I
love
hearing from my readers, so don't be shy!