So, you can only guess where I am updating from... my new Macbook! You'll have to bear with my posts though, apparently it doesn't appear the same as it does on Windows. Don't fret though, I'll still have my ground breaking posts, only without all the exciting parts to it. Don't worry, I'll figure it out eventually. Hopefully, I can still do my neat collages. I absolutely love this Macbook, but I am kind of missing my HP.
Moving on, we have our last but not least, the ever so cliched geek. However, this girl is not like any other bookworm, she's also a fashion worm. Despite her hard work in school, she makes sure she looks good doing it. Hence, her love for materialistic brands. So let's start taking a look in her backpack.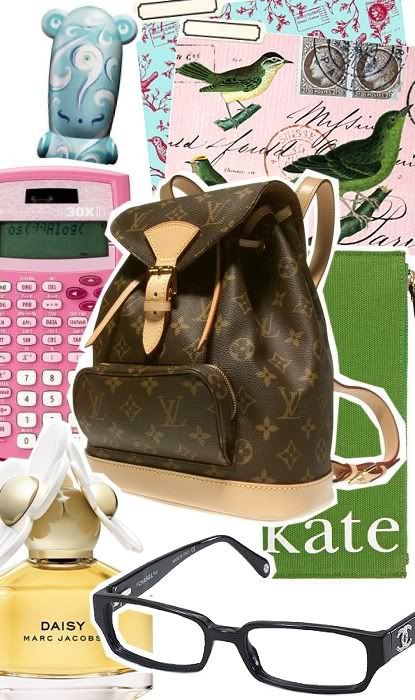 Backpack:
Louis Vuitton
- What's not to love about this backpack? It's incredibly chic and it will turn heads. I'm not exactly a strong believer in monogramed Louis Vuitton items (I just think they're a tad overrated) but I wouldn't mind carrying around a backpack. It's fabulous!
Flashdrive:
Mimoco
- Every computer geek needs a flashdrive to carry all over their files, right? But this girl won't make do with a simple, bland USB drive that probably every other person has. No, she's major and must go the extra distance. The way this flashdrive works, is that the head comes off and underneath is the USB port. I must say, this is freaking adorable and it comes in Starwars characters too. (;
Folder:
Fredflare
- You have to admit, these designs are to die for. I mean, it's perfect to stay organized. It even has tabs on top to keep track of what exactly you're keeping in those folders and you'll look chic doing it. They come in a pack of 12, but if you prefer to just hold onto a few folders in your *ahem* Louis Vuitton backpack, you're still on your way to geek chic.
Calculator:
Target
- I know it's not much. I know it doesn't completely define geek chic. But think about it: you're sitting in your calculus class and you pull out your dull, dreary calculator that you've had for quite some time now. The girl next to you reaches into her Louis Vuitton backpack and pulls out a pink calculator (also comes pink for the graphing calculator) and you just kinda stare in jealous hatred. Be that girl. Invest in a pink calculator.
Pencilcase:
Kate Spade
- Alright, aside from all the other materialistic items this girl has, she has to have another. So with her pink calculator out and her backpack modestly stored away, she pulls out a pencil from her Kate Spade pencil case. Hate, much?
Perfume:
Marc Jacobs
- Okay, this perfume has been getting a lot of publicity lately, and I never understood why. I mean, how great can a daisy smell, right? Apparently, daisies don't even produce a scent; but everything is possible in the world of Marc Jacobs. So, I went to a Bloomingdales, and I tried on a few spritz. I have to say, I love it. It's delicate, smells clean, and it stayed on all day for me. If I still didn't have a full bottle of Vera Wang left, I'd buy this in a heartbeat!
Eyeglasses:
Chanel
- Yet another reason to hate this girl, she wears Chanel prescription glasses! But what geek chic outfit would be complete without a pair? My thoughts exactly. You just have to go the extra distance and go all out: Chanel.
Now that I'm through with that, and I hope the spacing is fine because it's seriously a lot harder to blog on a Mac. Some of the options aren't available for Safari. Le sigh. Here's the geek chic outfit. It was a little bit harder to conjure up, but I did have some
inspiration
.