If you haven't already, add That's Chic's Myspace, if you tried earlier and noticed that the buttons we missing.. ignore my blond moment and try again.


While I researched the fundamentals for an urban socialite, I realized it was a lot harder than I thought. Luckily, I had my Nylon magazines right next to me helping me throughout the tough decision making. In the end, I'm happy with how it turned out.
This urban socialite not only likes to go out on weekends, but she does fairly well in school. However, her dexterous taste for clothes does not stop here -- especially for the first day of school. She leaves her platform heels at home but she wants to make sure she stands out on the first day of school without overdoing herself. It's so tasteful it's borderline tacky.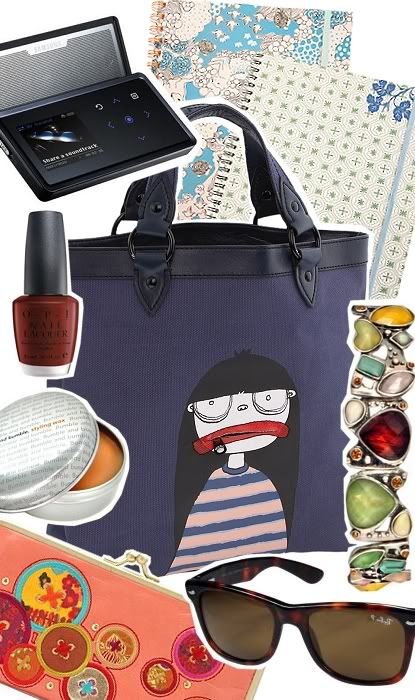 Tote
:
Marc for Marc Jacobs
- You can only imagine how this bag made Marc for Marc Jacobs a legit love, at least that's how I remember getting to know the brand. But lugging around this Miss Marc tote is not only functionable but labely stylish as well. Totes in general are perfect for school; they hold everything and they're the shape of a book. At least, I think that's what a book looks like...
MP3: Samsung - Ipods are being incredibly overrated. That said, what's an equally reliable product that also serves as purse candy? Well, I've heard great reviews about this mp3 player. It's uber sleek and comes with its own speakers. Don't worry, if you're trying to drone out of the boring lecture, there are headphones you can connect this to.
Notebooks: Urban Outfitters - Although this socialite can seem rebelish, she does take good notes when she feels like paying attention in class. However, she will not settle for an old notebook from Office Max, it would just cramp her style!
Nailpolish: OPI - I can foresee a burgundy craze going on. As for right now, I'm sick of seeing black nailpolish. Trust me, these socialites are on top of their nail game.
Hairwax: Bumble and Bumble - Well, you don't see girls in Nylon with ultra clean hair, right? No, it's because they keep hairwax in their purse to maintain the perfect I-just-got-out-of-bed texture. Just rub a little between your fingers and play with your roots. The beeswax moisturizes your hair and holds your hair in place without chunks. Loves it.
Bracelet: Patina - You never know when you need to accessorize. As for this piece; it's absolutely gorgeous! I'm very much into jewels right now, so this would be on my wrist everyday. Not only that, having a bright, multi colored (that isn't tacky) bracelet is the perfect way to spice up a white shirt and jeans.
Wallet: Loop NYC - I personally prefer horizontal wallets, I think they're much more chic and they hold so much more than a regular flap wallet. I love this particular wallet, the colors on will just bring a smile to my face every time I take it out of my purse... and possibly cheer me up through an expensive purchase.
Sunglasses:
Ray Ban
- Last but not least, the unmistakable Ray Bans that have certainly crawled its way up to my heart. When I first saw these on Kirsten Dunce or whoever, I thought to myself "how incredibly ugly, it looks like a geezer's (old man) sunglasses". Well, I tried them on not too long ago, and I fell in love with the way they looked on me. Anyway, this post isn't about
me.
I saw these style glasses all over Nylon's latest issue, meaning it's a legit urban pick.
On to an outfit so daring.... Cory Kennedy would be pround.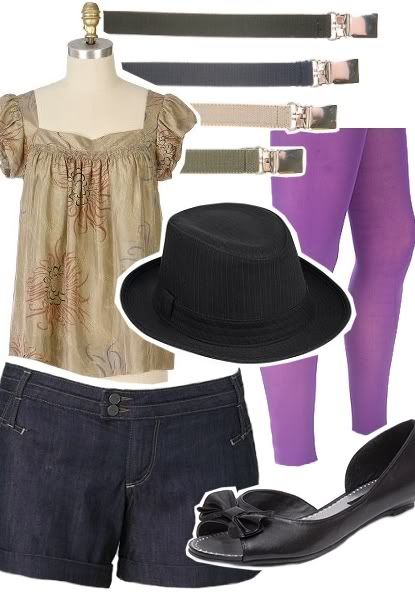 Blouse:
Anthropologie
- I love this top, it goes so well with this look because it adds a sense of sophistication and femininity to this outfit. Not only that, it goes perfect with just about anything else: skinny jeans, white shorts, trousers, you get my drift. Flowy blouse and neutral colors, take note.
Suspenders:
Urban Outfitters
- Adding just this simple strap takes your outfit on a completely different level and style. I absolutely love it and after making this post, I am for surely investing in a pair. Besides, it's totally Mischa Barton.
Shorts:
Paige
- The wash of these denim shorts are perfect. I love the color and I love the rise -- it's not too high nor is it too low. They're totally versatile because you can wear them in any season. During F/W you can wear them with leggings and by itself during S/S, and because they're dark wash, you'll always look chic in them.
Fedora:
Target
- Fedoras have been loitering the fashion scene for quite a while. Apparently, it's the perfect 'disguise', seeing that all the celebrities use it to hide their face. Anyway, if you have the hair and the face to pull of the fedora, I'd go for it. I think it's perfect as a fall accessory.
Leggings:
Urban Outfitters
- I know what you're thinking. Wow cute outfit, but purple leggings?! Keep in mind that these urban socialites will flirt with tacky while tasteful stares in envy. Nevertheless, they always manage to pull of the look. But if you're not into the purple leggings, don't fret, UrbanOut has a huge array of colored leggings to pick from. Just make sure they're not the footless one.. those are starting to get a little overrated in my opinion. By the way,
deep
purple
is the
it
color this fall.
Shoes:
Asos
- See, now that you have the footed leggings, they look so cute in flats. Maybe not peep-toed flats like that ones I picked out, but you have to admit those are some pretty darn cute flats. They're like affordable Dolce Vita's if you ask me.
I reckon that was a wordy post, but I had a lot to say! That said, it's 2AM and I'm not going to even bother revising. I also realize that it's a little difficult putting that outfit together in your head and it looking cute, so I went ahead and pieced the outfit together. When I envisioned this outfit, I imagined the blouse to be tucked into the shorts.



Two girls down, and two more to go! Don't forget to add me on Myspace; I am such a loser.