Before I jump into this post, let me give you background information. I had a lot of fun posting "The Accessories of a Beach-goer"; I feel like its a post we all can enjoy. With that said, I'm creating a small back to school special consisting of four different styles on back to school necessities. I'm putting a lot of work and research into this so I hope you guys love it as much as I have putting it together.

First off, we have the ever so perky student. The girl who just can't go anywhere without ensuring she's well put together. She's pretty much the epitome of Juicy Couture and JCrew. Her favorite color is, well you guessed it, pink!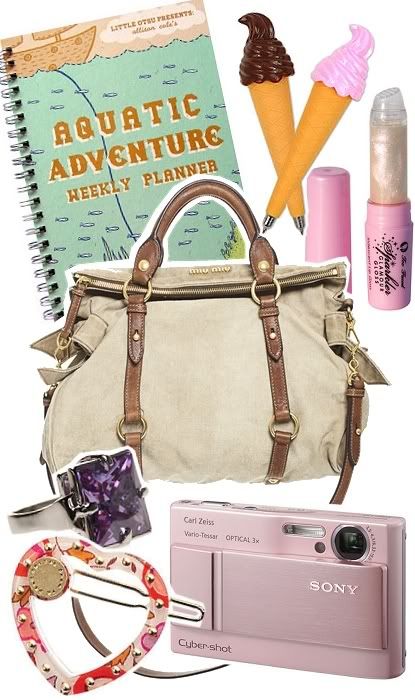 Purse: Miu Miu - I absolutely love this Miu Miu bag. I love the fresh color (that's perfect for summer or fall) and the shape. What I love even more about this bag is its versatility. Apparently, I can't get enough of that word. With the removable leather straps, you can easily transform this into a weekend shopping bag then when school comes around, it becomes a messenger bag for your school supply. Who said versatility couldn't be chic?
Planner: Cutxpaste - When I think of the member of the pep committee, I think well organized.. much like Taylor Townsend from the OC. But not only does this adorable planner handy to keep your plans and thoughts in, it's also great arm candy and another good reason to dig in your purse for something to entertain you. Hopefully, I'm not the only one who does that.
Pens: Fredflare - It's not enough that you own cute stationary, you also need a freaking adorable pen to write with. Otherwise, it voids the purpose of carrying a cute planner to begin with, right? Yet another purse-scrummage worthy item. You'll find any reason to whip it out.
Lipgloss: Too Faced - No preppy purse is properly accessorized if it doesn't have lipgloss. What's great about this specific product is that has the perfect amount of shimmer. You know that glow you have from being out in the sun, or after sex? Yeah, this is it, but for your lips. Apply as much or sparingly as you like.

Cocktail Ring: Urban Outfitters - I love big, fat rings! They're the perfect way to glam up your hands if you're not in the mood to stack up on bangles. Not only that, but it just makes using a pen look ten times more fashionable!
Hair Clip: Marc by Marc Jacobs - Although I don't like this hairstyle on me, I think certain girls can pull this look off very well -- the clean, prep look. Sweep your hair to the side and clip it with a cute plastic barrette. Perfect accessory to instantly brighten your face just by keeping hair away! Good luck finding a M4MJ barrette, I've looked everywhere and I only came up with a picture. Maybe next season.
Camera: Sony - Last but not least, a digital camera. It's not enough anymore to carry around anything defaulted. Perky girls must step it up a notch and go for more cute and glamour. What better way to exaggerate your love for pink than to buy a pink camera? I'm sure the smiles are a wee bit bigger through a pink camera.
Now that we've looked through her purse, here's what I image she would wear on her first day to school.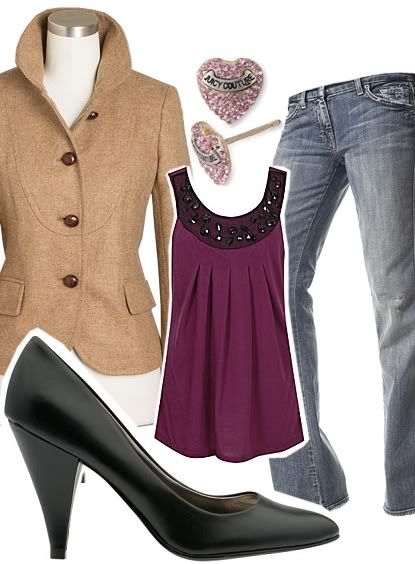 Blazer:
JCrew
- The tailoring for this blazer is impeccable! Flattering in every way possible, comes in several different colors, and is perfect for every season. With versatility like that, I can understand why it may be a tad pricey. But trust me, as much as I stress how premium jeans are worth the splurge, so are well cut jackets. It's not worth it to buy a 40 dollar blazer and not have it hug you in ways you cannot imagine. So, if you're planning to buy a blazer, think about its cost per wear.
Blouse:
Forever 21
- Here's the fun part, because the fit of the jacket is so perfect, you can't go wrong with choosing an undershirt. You can even get away with a flowy top! I picked out this gorgeous tank with the perfect amount of embellishments. I actually lied, you can't wear anything but a sleeveless. Because the jacket hugs your body so well, you don't want your sleeve to create unneeded bulk around your arms.
Jeans:
Seven for All Mankind
- I imagine a well put girl to wear nothing but bootlegged jeans. Nothing too dark and nothing too light. These Sevens (and although I find them overrated) fit the description perfectly. Though, I forgot to check the Abercrombie website, I'm sure there are good alternatives to a pair such as these.
Shoes:
Unlisted
- Bootlegged jeans look great with pretty much any pair of shoes. But for this girl, she would wear a nice pair of heels. The heel gives length to her legs and a boost in the bum. Because the heel is a bit thicker and not that high, makes it school appropriate. All in all, completes the outfit.
Earrings:
Juicy Couture
- No preppy girl would ever be seen without her Juicy Couture! She's practically the face for the brand! Because a necklace is too much, there's already have a cocktail ring waiting in her purse, and the blazer overpowers bracelets, it's all up to a studly pair of earrings to save the day. Pun not intended. Love these earrings because it is the perfect amount of bling to spice up the outfit, but not enough to distract the eye.
With one girl down, there's three more to go! Excited to find out who these girls are? Just stick around and you'll see. As for this pep committer, I give her an A- in style.
P.S. This post is not meant to stereotype at all.