I've been super busy lately. With a few people quiting at work, they've been working what's left of us like dogs. But while I had my little break, I've come to realize - I love leather jackets! I've never owned one, but after looking at pictures of LiLo, I decided I want one myself.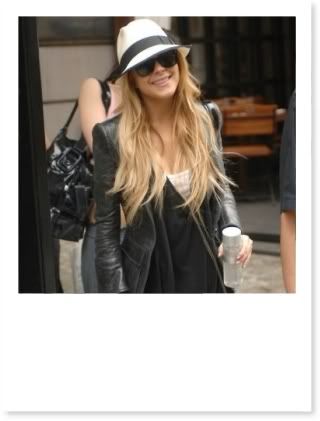 We all know that the black blazer should be in every woman's closet, but why not turn it up a notch and consider a black, leather blazer? I absolutely love this jacket on Lindsay, from the shoulders to the impeccable tailoring, it's just to die for. I would definitely sport this if I could afford it. Seems like it would go great with anything.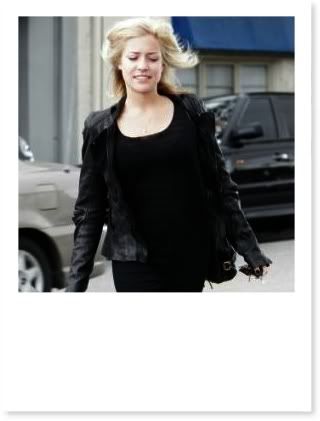 Here is Kirsten Cavallari in another leather jacket which seems to have a more biker-girl appeal. While I don't approve of her all black outfit (yes, she is wearing black jeans, boots, purse, shirt, and jacket), I believe her jacket would be tres cute by its lonesome.



And if you want to avoid the biker chick look because you feel it's too rough, a leather jacket is the perfect way to rugged up a flirty, feminine dress. Very fall, very chic.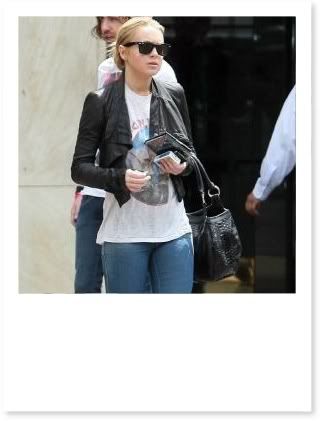 Of course, I saved the best for last. This picture drew my epiphany. Lilo managed to take the plainest outfit, a raggedy shirt [that doesn't even look like she spent more than $10 on] and jeans, and transform it into this ultra street chic outfit all thanks to that simple leather jacket.
With all that said, I went on a search to find the perfect leather jacket. Unfortunately, nothing was in my price range, but who knows, with my big paychecks, I might throw down a splurge. Here are a few cute jackets I found online that are worth a second look.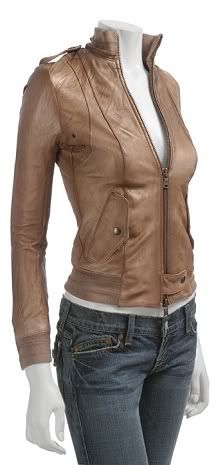 Dear lord, this jacket is gorgeous. The cut, color, tailoring is absolutely perfect. When you're picking out a leather jacket, you want to make sure it hugs your waist, because no matter what size you are, it'll flatter you in ways you cannot imagine. Going for a jacket without bulky details helps giving that lean look. Love this jacket, now, who's willing to splurge? (S.W.O.R.D)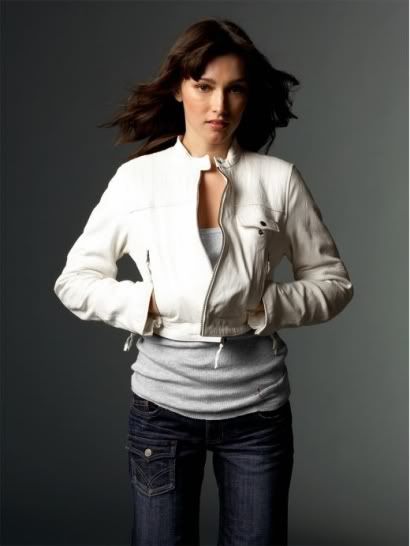 This jacket is from GAP, and while I think it's okay on the model, I think it'll look great on in person. Yes, this jacket doesn't have the tailoring that hugs your body, but the bomber jacket is good choice as well. Since there is so much volume up top the bomber jacket looks best paired with skinny jeans. Totally cute for fall, don't you think? Not to mention, the pricetag is pretty decent compared to what I've been coming across. (GAP)


I know what you're thinking: ew, a purple leather jacket? Trust me, I tried this bad girl on at Nordstroms and it looks gorgeous on. I love the fact that it cuts between a blazer and a bomber leaving you with that lean figure yet somehow incorporating biker-esque. I love this jacket a lot, although, it's not that versatile. (Rock and Republic)




This jacket is the kind I can see Lindsay wearing with just about anything and pulling it off as street chic. I would go a size smaller buying this jacket only because I prefer the fitted look for leather jackets. Who was I to think that Victoria's Secret couldn't design clothes outside of bedroom wear? (Victoria's Secret)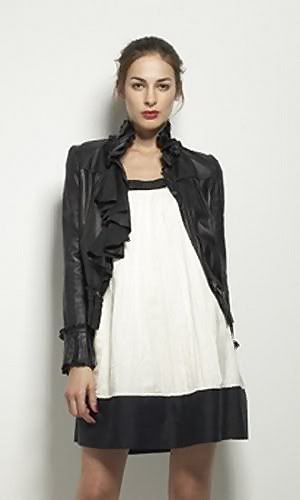 I love this jacket. Ruffles are a great way to add femininity to a bad girl jacket. Could this possibly be the exact jacket that LiLo is wearing? Maybe, but throwing this jacket over a rock and roll outfit is great avoid overwhelming yourself with such a harsh look yet, you're still maintaining the look. (Diane von Furstenburg)


What do you think of these babies? Would you invest big bucks for a leather jacket?